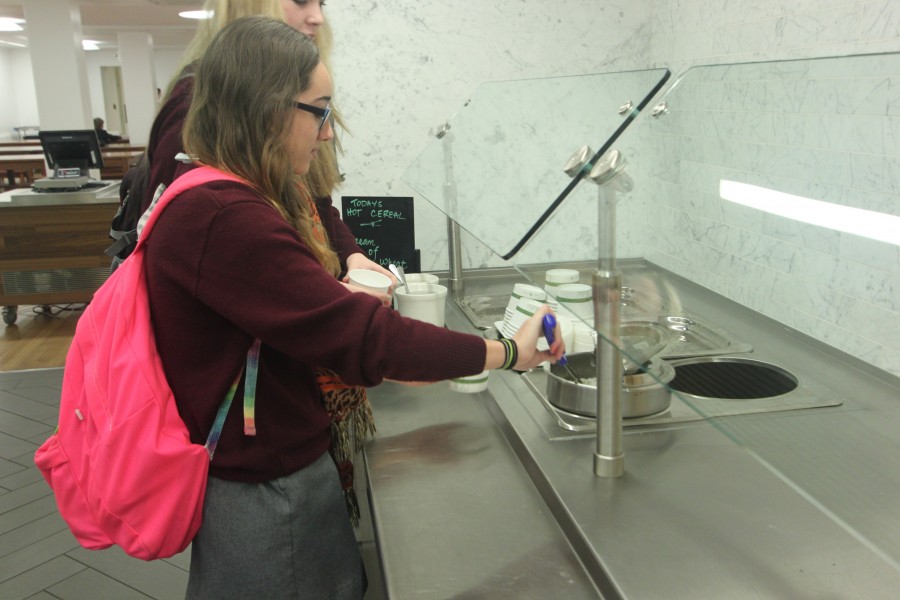 Jaime Hum-Nishikado
Reporter

Recent changes in items sold by the school cafeteria have students wondering why their favorite baked goods and bottled water are now unavailable for purchase.
Pastries were removed from the cafeteria due to their refined starches and high sugar count with the prospect of introducing a new bakery section, which would offer students a healthier option.
"Hopefully, we will begin making pastries for the students on site, so we will start our own bakery," cafe manager Zelda Williams said.
Along with the promise of a new bakery, the community now has the option to have a hot breakfast every Tuesday and Thursday. Prior to this addition, breakfast items included, Sun's Up sandwich, breakfast burritos, yogurt and bagels.
"We have recently started doing hot breakfasts, and I think it will be very successful with the kids because there is a big rush to get to school and there is not enough time to have breakfast at home," executive chef Herb Kettelton said.
In the two weeks hot breakfast has been served, students have been purchasing pancakes, sausages, potatoes and bacon.
The Philly cheesesteak sandwich, pizza and new salads have become new lunch favorites for the students, according to senior Annie Mitchell.
"I really like the mini pizzas and the chicken Ceasar salad boxes," Mitchell said. "I also enjoy the little fruit cups because there is a variety of fruit."
Even though students are excited about the new additions to the menu, the removal of water bottles in December caused a community upset .
With the new cafeteria makeover, a filtered water dispenser was added to the dining area, yet, water in biodegradable bottles were still being sold. The food committee then decided to remove them completely.
"To provide a more eco-friendly campus we decided as a food committee to pull the water bottles," Williams said.
Some students were disappointed, but eventually saw the reasoning behind it.
"When the water bottles were taken away from the cafeteria, I was a little caught off guard," junior Mckenna Eichler said. "But I understand that we do have multiple water fountains around the school, so there was really no need to purchase water in the first place."