Service volunteers mentor elementary school students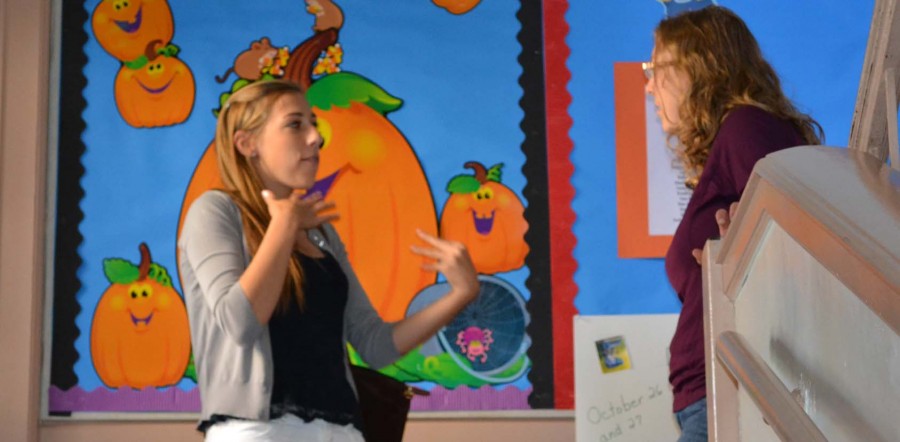 Aoife Devereux
Reporter
During typical after school sessions, teenage volunteers sit with their elementary school students to discuss using proactive learning styles, incorporating arts and crafts to help improve their confidence in their ideal learning environ- ments, giving volunteers an opportunity to connect with their students by helping them feel secure in their academic settings at school.
Eye-to-Eye, a national service club with high school and college chapters, pairs older students with grade school students, both of whom have learning differences. CSH students meet children from St. Vincent de Paul, Cathedral and Gateway Middle School on Tuesdays, working on self-promotion, metacognitive skills and learning abilities.
"I understand what it means to have problems learning and having your parents become frustrated with you," Casey Stuart, who heads Convent's Eye-to-Eye chapter, said. "Being able to tell your mentee your struggles and having
them look to you as a guide is really inspiring."
Eye-to-Eye separates itself from most peer mentoring institutions because instead of tutoring, students use art to ex- press themselves.
"We make them tap into their creative sides and communicate through art — it really creates a fun and playful vibe," club member Kimmy Pace said. "Each week Eye- to-Eye headquarters gives us a different project. One week we had them create their ideal learning environment, another week it was create a pretend app for an iPad or iPhone that would help them learn."
Eye-to-Eye's mission is to improve the life of every child that suffers from a learning difference and Attention Deficit Hyperactivity Disorder, according to the Eye-to-Eye website.
"I love seeing the students' faces when we connect with them and they finally under- stand the concept of what we are doing and that there are many other children out there just like them," club member Marly Schatz said.
Bridge the Gap College Prep, another peer mentoring program, pairs elementary students with high school tutors. This program is meant to help raise the chances that children from low-income families in Marin City will have a change to graduate college.
"Not everyone is as lucky and we have to help when we can," sophomore Sarah Bunney said. "I learned how to interact with kids better and I now know more about education. I also have a better perspective on the troubles outside of the bubble I live in, by showing me how another child, also living in Marin, is struggling."
Bridge the Gap focuses on improving low test scores and dropout rates for at-risk students, a mentoring program that raises the chances that a child will succeed.
"I think it's really beneficial for both parties," Bunney said. "It's rewarding person- ally to teach, and the student has someone who is relatable that they can look up to, to model themselves on. It's hard for these children to see themselves as an adult, but it is a bit easier to relate to when you're closer in age range."