Roam no farther: New burger joint opens on Fillmore
Alice Jones
Food Columnist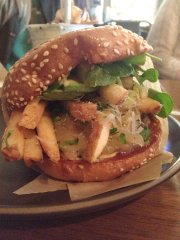 There's a new burger on the block. With Johnny Rockets' closure earlier this year, a new burger joint has opened across the street on Fillmore. Roam is concocting innovative recipes and combining wonderful flavors, bringing the burger up to a new level.

My devotion to In-n-Out ended after biting into the most glorious burger — Roam's French and Fries. On top of a well-cooked patty lies a bevy of avocado, gruyère cheese, caramelized onions, watercress and strong Dijon mustard, all mounted with sultry Parmesan cheese and truffle oil fries — pure divinity. The onions are subtle and to the rich silky flavors and textures of the truffle fries and avocado.

I was already sold on Roam when my dripping Straus Family Creamery mint chip shake, adorned with a brûléed marshmallow, arrived, having quickly nodded "Yes" when I was offered the $1 topping.

If these creamy shakes are too hearty for you, try the array of light and fresh artisan sodas offered in Meyer Lemon, Prickly Pear, Ginger Lime, Caramelized Pineapple or a seasonal flavor of the day like Blood Orange. These lightly-carbonated sodas tickle your tongue and refresh your taste buds in preparation for a lavish entrée.



Another masterpiece, using the wonderfully mellow watercress in replacement for drab lettuce, is the Pacific Blue burger. With watercress, tomato, sweet caramelized onions and steak sauce, these bursting flavors smoothly dance with the tamed blue cheese. It's perfectly subtle, but still adds the light, bitter taste.

If you are looking for a powerful kick to the taste buds, get the Tejano. Your first few bites will have you enraptured by the avocado, tomato, light herb ranch dressing and crunchy white corn strips. You'll start to call foul on the mild-tasting burger, but once you get to the middle, all the flavors of the Pepper Jack cheese and jalapeños will hit your tongue with a flavor wave of intensity — then you'll beg to differ.

Another incredible burger is the Heritage, draped in applewood-smoked bacon, Fontina cheese, butter lettuce, tomato, caramelized onions and delicious herb mayo. This burger is buttery, juicy and supple with an incredible latka-like flavor. The maplely bacon mixed with the subtle caramelized onions create a sweet and savory combination that melds with the creamy herb mayo. This is a unique burger, using  sweet butter lettuce instead of Roam's usual watercress, adding another sweet element to this succulent burger.

Roam also offers a plethora of delicious fries. Russet fries are a classic, mediumly-thick fry dusted with salt and chopped parsley. Sweet potato fries can get old fast, and I am usually regretful after ordering. Roam's are salty and very filling, but so sweet we couldn't finish them. Their third fry is the Zucchini Onion Haystack, a twisted, salty forest of chalky and sweet sticks. Even when you can't decide, Roam has found a way to satisfy everyone with all three, offering the Fry-Fecta.

I'm a fan of mushrooms, but tasting them on the Chalet Burger threw me off. The mix of swiss cheese, oniony house sauce, and cremini mushrooms created a earthy, cheesy mixture of flavor — a combination I personally am not a fan of on a burger.

This trendy, wooden-decor burger place has also popped up on Union Street off of Octavia Street and provides the same menu, selection of kombucha, and cane sugar sodas as its Fillmore Street counterpart.

These natural beverages and Roam's selection of beers from microbreweries and sustainably produced wines on tap contribute to the caring artisan vibe of the restaurant, appealing to a hip, foody, over-21 crowd as well as hungry hordes of high schoolers.

(Visited 300 times, 1 visits today)