Fathers and daughters share Hawaiian-themed evening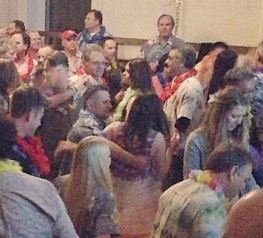 Maya Greenhill
Reporter
Tikis and leis set the Hawaiian mood as fathers and daughters dined on rice, steamed vegetables, barbecued chicken and pork at the Father-Daughter Dinner Dance in the Little Theater on Friday night.
"I'm really busy with school and afterschool activities so there's not really much time to hang out with my dad," freshman Julia Praeger said. "We don't have much time with each other, so having an event like this was a really good chance for us to spend time together."
Fathers also got a chance to be introduced to their daughters' friends and their fathers.
"I think it's really great to meet my daughter's friends," Julia Praeger, father of freshman Julia Praeger, said. "She's always talking about or spending time with her school friends, and now I get to meet them and their dads."
Fathers and daughters danced after dinner to oldies such as "YMCA" and "Macarena" as well as current hits like "Gangnam Style." Junior Sophia Kelly also broke down the steps of the hula to the song "Hukilau."
"I liked that they had songs that both me and my dad knew," sophomore Emily Hogan said. "The dance in general was a really great way to spend time with both my dad and my friends."