Taking on the sea: A look into the CSH sailing program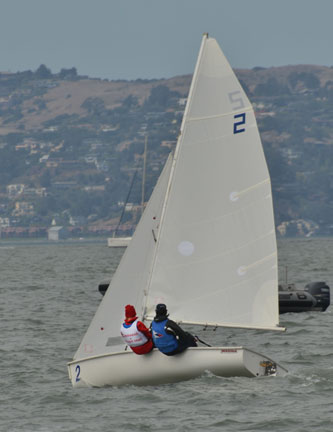 Ashley Latham
Reporter
As the sailors rigged their boats at the St. Francis Yacht Club, the sails tousled as they fought with the wind. The crisp smell of the San Francisco Bay was in the air as the Convent and Stuart Hall sailing team worked together to unroll and hoist the sails to get out on the water.
The relatively new team began three years ago when then-junior Meghan Helms ('12) sailed with the St. Francis High School club team, but wanted to practice and compete alongside her fellow classmates. With the help of Athletic Director Elena De Santis and current team captain Francesca Dana's mother Lisa Dana, the Convent and Stuart Hall team formed around Helms, and included two boys from Stuart Hall.
"My overall hopes for the sailing team is that Convent girls join it and love it as much as I did," Helms said. "It would be great if we could continue winning races and moving up in the rankings, but I've never really been all that competitive. If you're not having fun, is it all really worth it?"
The Convent and Stuart Hall sailing team has moved up in rankings within the last two years from 50th to 30th place in the Pacific Coast Interscholastic Sailing Association (PCISA) standings. The team aims to make it to the Gold Fleet this year, according to Francesca Dana. In order to qualify, the team must be within the top 22 teams on the PCISA standings.
All current team members have sailed for at least two years
prior to entering high school. As captains, Dana, who is a junior, and senior Ivan Balarin prepare for their new season by racing out on the water.They do a combination of cardio and weightlifting on land, as well as a mixture of core strength workouts involving wall sits, planks and pushups.
"The team has become more competitive since my freshman year," Dana said. "We push each other to work harder and improve on our skills. We are constantly cheering for one another, and challenging each other to do better."
Each skipper and crew have a strong bond as they must rely on one another. Along with becoming physically stronger, the team has to develop strong chemistry.
"Though they are competitive, each sailor is there for one an- other when there are hard losses or when they get a bad start in a race," sophomore Hannah Baylis said.
The female athletes have also formed a tight bond with the male athletes on the team. Competing with the boys has helped the female athletes become more competitive.
"I love being on coed teams," Dana said. "I have been on coed teams my entire life and the boys motivate me to do better. There's nothing better than winning a race and beating the boys."
The returning sailors participated in Americas Cup Junior Exhibition in late August to start off the sailing season.
"The America's Cup event was awesome," Dana said. Those sailors are so inspirational and we got to meet two of the skippers. The junior's day was a fun start to the season."