New SSH president greets community as part of daily routine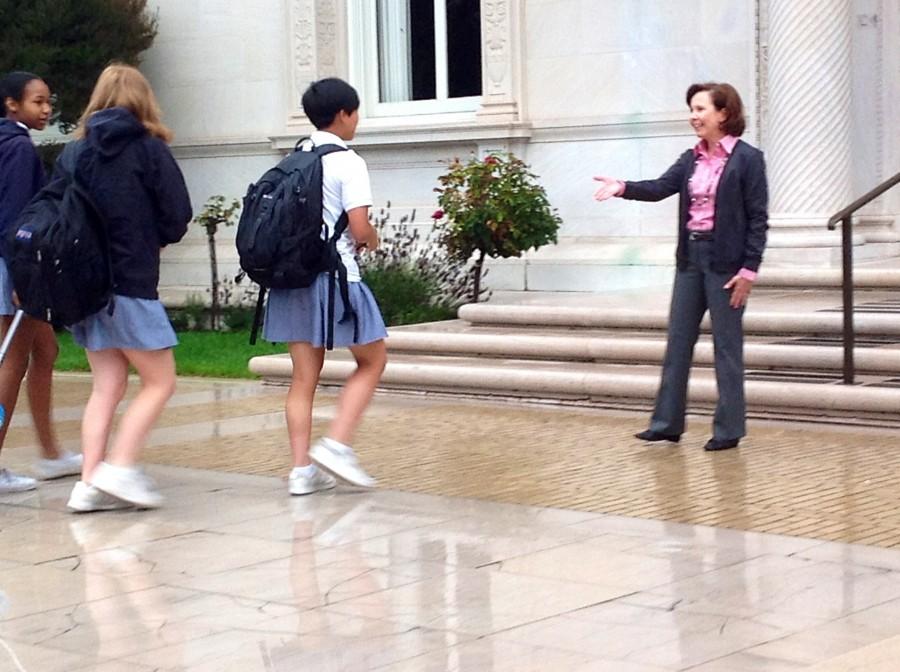 Most mornings, a petite, professionally-dressed woman stands outside of the Flood Mansion greeting students and faculty walking into the school to start their day. Dr. Ann Marie Krejcarek offers a handshake and some small talk as community members stop to chat with her.
Krejcarek, the new president of Schools of the Sacred Heart, says she normally arrives on the Broadway campus at 7:30 a.m. to familiarize herself with her new community.
"I like to start my day off with the students," Krejcarek said. "I'm not teaching in the classroom, and it's really hard for me not to be teaching. It's a very nice way
to start the day for everyone."
Before coming to Schools of the Sacred Heart, Krejcarek worked at three other schools and worked in the field of engineering.
Students seem to enjoy getting to know the new president through these daily interactions.
"She's trying to be more personable, and I like it a lot more than no greeting at all,"  senior Stephanie Gee said.
Because she is president of all four schools, Krejcarek says it is difficult for her to get sufficient time to interact with each school.
"She gets to know us, even though she can't be around Convent all the time," junior Niamh Fitzsimon said.
With her busy schedule, Krejcarek says getting to know the students is her top priority.
"In this personal business, it really is the way that I like to start my day," Krejcarek said. "Hopefully you do too."
— Camilla Bykhovsky, Kristina Cary, Maya Greenhill and Sarah Selzer contributed to this story.
(Visited 319 times, 1 visits today)