Seniors visit Porziuncola Nuova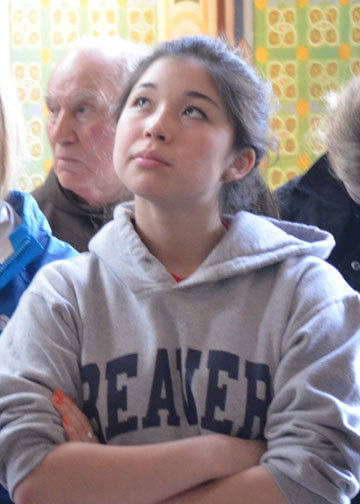 Madison Riehle
Reporter
The Senior Class toured the Porziuncola Nuova, a replica of the church St. Francis of Assisi is credited to have rebuilt, as part of its studies on Christian mystics late last month.
"We wanted to use the opportunity of being in the city of St. Francis to combine our study with a representative of a real and spiritual place that San Francisco holds so dear," theology teacher Julia Dobel said.
The Porziuncola Nuova, meaning "the little corner of the world," is three-fourths the size of the original Porziuncola in Assisi, Italy. Artisans from Italy hand carved the replica's doors and table St. Francis used to meet with his knights, according to the Knights of Saint Francis. The frescoes inside and outside of the Porziuncola Nuova were copied by Italians and shipped to San Francisco.
"It's was interesting because it's a copy of this very old structure in Italy, complete with exact graffiti and paintings, so that was very cool," senior Meghan Helms said.
Former San Francisco Supervisor Angela Alioto ('63) lead the building of the scaled replica, helping to raise $3 million for the project.
The Porziuncola is adjacent to the National Shrine of Saint Francis in North Beach and is looked after by the Knights of Saint Francis who also serve as volunteers and docents.
"I learned a lot there, like that Saint Francis of Assisi traveled as far as the Ottoman Empire," Helms said. "He was a lot more than a guy who hung out in the forest with animals."