Kellie La wins all-school Kate Chopin Essay Contest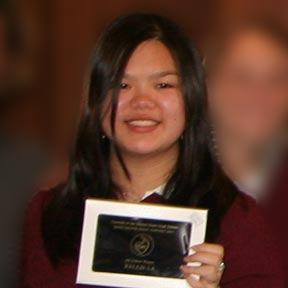 Sophomore Kellie La was named the all-school Kate Chopin Essay Contest winner at a special assembly this morning. La's essay tells of her parents' immigration from Vietnam to the United States.
The annual contest gives every student the same essay prompts and 80 minutes to write.
The prompts are selected based on the school year's theme, this year being "Gratitude." Students were instructed to write a true or fictional essay to the prompt they chose.
"I'm grateful for the life that my parents gave me, " said La in a teary delivery of her essay to the audience. La recounted her parents' survival of the Communist take over of Vietnam, leaving many in the theater visibly touched by her family tale.
All-class winners are freshmen Shirley Yang (1st), Sabine Dahi (2nd), Maya Melrose (3rd); sophomores Clare Pardini (1st), Ayesha Sayeed (2nd), Lauren Baum (3rd); juniors Jewel Devorawood (1st), Madison MacLeod (2nd), Haley Schwab (3rd) and seniors Aggie Kruse (1st), Meghan Helms (2nd) and Nicole Hvid (3rd).
(Visited 178 times, 1 visits today)