CSH gets a new look for the school year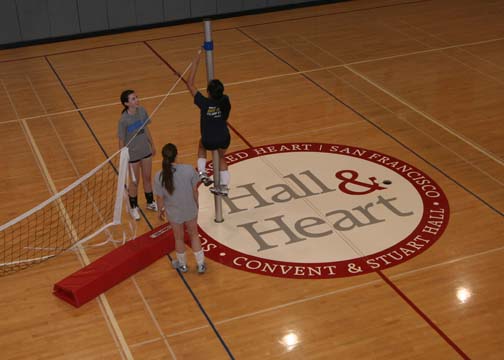 Isabelle Pinard
Reporter
The Herbert Gym floor brandishes a new center logo with red and grey text of "Hall & Heart," and is one of the recently refurbishments to the campus over the summer.
The school's makeover is handiwork of facilities manager Geoff Smith and his crew, working on the Flood Mansion and the Siboni Arts and Science Center for the new school year.
"In the Flood building the major changes were the Main Hall, Adam, Duchesne, Center, second floor bathrooms, cafeteria and faculty offices," Smith said. "As for the Siboni, the major change was the lobby to Syufy Theatre and the Hall & Heart logo [in the gym]."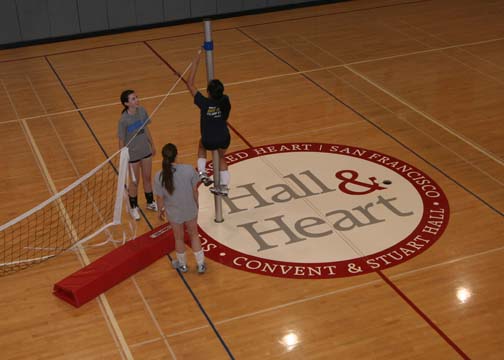 The center logo was changed from "Convent of the Sacred Heart" bordering an image of the Golden Gate Bridge inside the curves of a grey heart to "Hall & Heart," reflecting the Schools' new branding.
"I liked the old logo because it portrayed our schools community as students of the Sacred Heart, but the new logo makes sense since our school is more coed this year," junior Bianca Quintanilla Whye said. "The other new factor in the gym are the red bleachers, which I like because they standout."
Outside the gym toward the Syufy Theatre a new hardwood floor replaces the old, easily stained carpet, installed when the facility opened, giving the hallway more light and space according to Smith.
"I've never seen the school this nice," senior Katie Rickards said. "It is a great way to start the school year because the facilities are newly refurbished and ready to go."
The Adam Room has a new engineered oak flooring in a light oak color and the Duschesne Room has was sanded down and stained a mahogany color.
"We wanted to give those rooms with dark walls just a little bit more feeling, having it be more open as well as match the tables that are in there." Smith said.
The biggest project for Smith and his facilities crew was the Main Hall's marble floor, which was re-coated and waxed in a six-week process.
"When I walk into the Main Hall and see that polished floor it makes me proud of how beautiful our building is," Head of School Andrea Shurley said.
When the hot lunch program begins on Sept. 1, students will see a remodeled cafeteria now without mirrors, but with a new coat of creme paint and sanded floors.
"We also blew out an entire wall for more space to create a walk way for the students as well as set in new light sconces, which brighten up the room tremendously," Smith said.
Antique, body length, gold-veined mirrors previously encased four sides of the columns of the dining room, causing a hall-of-mirrors effect. The mirrors originally lined the walls of the room which became the chapel for the Religious of the Sacred Heart and the school. Now they are stored in the basement for safekeeping.
"I am so grateful for the good work that was done to spruce up our campus over the summer," Shurley said. " It is a good reminder of just how lucky we are to have this amazing space as our school."