Annual tea honors graduating seniors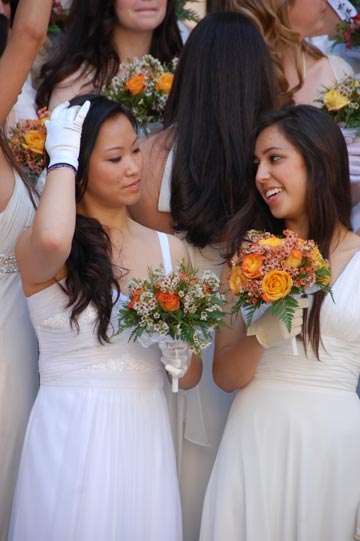 Julia Nemy
Reporter
Over 500 guests greeted the Class of 2011 that lined the Belvedere of the Main Hall to greet guests for the annual Senior Tea on May 5, beginning the end-of-year traditions leading up to graduation on June 3.
"[The Tea] has been going on since Convent of the Sacred Heart began having graduations," Head of School Andrea Shurley said. "The Religious of the Sacred Heart used to bake cookies and make the tea for the event."
Guests were introduced to Director of Schools Gordon Sharafinski and Head of School Andrea Shurley by newly-elected Student Body President Colleen Scullion before meeting the soon-to-be graduates. Coffee, tea, finger sandwiches and bite-sized desserts were served in the Reception Room where the Junior Class assisted serving.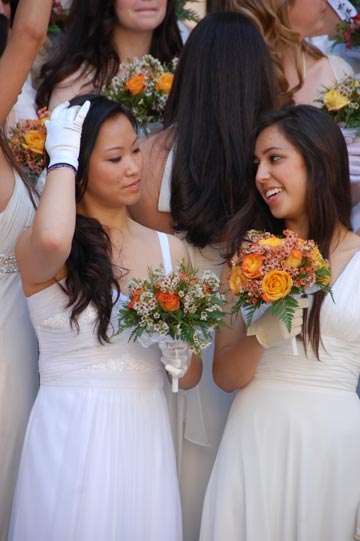 "I believe that the Tea is significant because it carries on a tradition that honors the graduates in a unique ceremony," Director of Schools Gordon Sharafinski said. "The Tea captures a simple elegance that is often missing in our casual society."
Seniors wore white, tea-length dresses and gloves for the event and will wear them for a week of ceremonies and Commencement on June 3.
"We've had a binder on the Senior Table for awhile where everyone put photos of their dresses, but it was great to actually see them on everybody," senior Juliet Charnas said.
The tradition is unique to Convent, but other Sacred Heart Schools also have ways of highlighting their seniors at the end of the year.
"At my school, Duchesne Academy of the Sacred Heart in Houston, we had the Très Bien Ball after graduation when we were presented into the Alumnae Association," Shurley said.
Seniors are inducted into the alumnae association at an annual luncheon and seniors are given a pin pinned on by an alumnae. At Forest Ridge School of the Sacred Heart in Bellevue, Wash.
"At Bryn Mawr, we have a Senior Luncheon after Prize Day hosted by the Junior Class," said Betsy Moore, Assistant to Head of School at Country Day School of the Sacred Heart in Bryn Mawr, Penn. "The Mothers' Association also has a fabulous reception to honor the Seniors immediately after the Graduation Ceremony."
Due to limited seating in the Main Hall, graduates only receive six tickets per family for Commencement, so Senior Tea is an opportunity for other family members and friends to participate in graduation.
"It was great to say our first goodbyes to all of our teachers and to meet everybody's family and friends," Charnas said.
(Visited 621 times, 1 visits today)