Claire Fahy
Asst. Sports Editor
Varsity tennis veteran Sophie De Lancie has found a way to reconnect with her elementary school by coaching middle school girls.
"She loves Convent, so working with younger Convent [Elementary] students is the perfect avenue for her to show her enthusiasm for the school and the tennis program," Christina Cinti, De Lancie's former tennis coach, said.
De Lancie, a senior who graduated from CES in 2007, says she wanted to teach kids the passion for tennis she had learned by looking up to good examples such as her own previous coaches and instructors.
"There's nothing better than teaching a sport you love to play," De Lancie said. "[It's] satisfying to see a student 'get it' and hit a perfect shot. It makes me proud of their skill and my ability to teach."
De Lancie and 12 CES girls from grades 5 through 8 head to Alta Plaza Park once a week where De Lancie instructs them on how to improve their game.
Cinti said De Lancie is the perfect person for this position due to her positive attitude and effect on her teammates.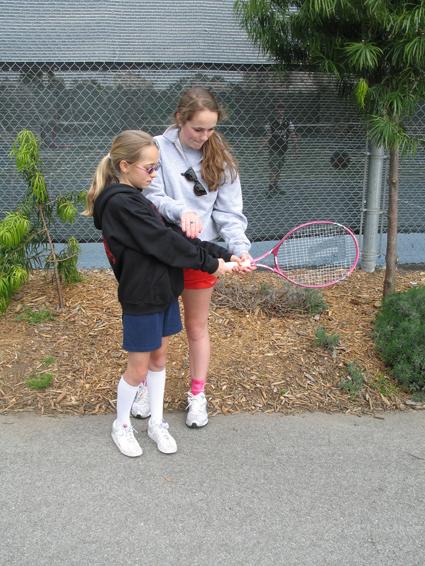 "She's an amazing leader," Cinti said. "She has an amazing energy that was always contagious in her team. She keeps everything going."
Being an alumna also helps Sophie connect with the girls she coaches, according to Helen Luke, CES physical education teacher.
"[De Lancie] knows what skills to look for and she's very adaptable," Luke said. "She's very understanding with their age."
This understanding and ability to relate to her pupils helps De Lancie keep the girls interested and having fun, says science department chair Ray Cinti, whose two daughters are coached by De Lancie.
"[De Lancie] is positive and someone who the students can look up to and want to be like," Ray Cinti said. "Outside of her skills and know-how, it's really her personality that's her best quality. She's a thoughtful person and a good, supportive individual who is always encouraging."
De Lancie says that working with the CES girls is a great after school job that allows her to combine her love for kids with her love for tennis.
"It is a fun way to spend the afternoons," De Lancie said. "Playing with the girls is so much fun."