Simple Gifts Fashion Show donates profits to Little Children's Aid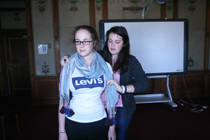 Emily Bloch
Reporter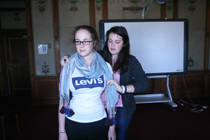 The fifth annual Simple Gifts Fashion Show, put on by the philanthropic club dedicating its efforts to raise funds and awareness to improve the lives of women and children in San Francisco, is scheduled for this evening.
The fundraiser features clothes from Levi's, J.Crew, senior Juliet Charnas' personal line and other stores in the city.
Club co-presidents Frankie Incerty and Erin Minuth choose clothing lines that are willing to participate and are conveniently located to school.
"The fashion show takes the most time to plan," in relation to the group's other fundraisers, according to Minuth. "It requires the most leadership and responsibility, plus it is very rewarding. We work really hard to put everything together, but when the fashion show is all over, its rewarding to know that we've been able to make an
important difference."
Last year, a large portion of the $4000 went to support Bay Area based charity Get on the Bus.
Simple Gifts hopes to make $1,000 more than last year. "Our goal for this year is to make $5,000," Student Life Coordinator Celine Curran said. "The majority of the money is going to be sent to Little Children's Aid," which assists shelters in San Francisco, St. Joseph's Family Center, Rita Da Casia and the new 10th of Mission Center.
"LCA provides our shelters with meals," LCA vice president Sandra Puccinelli said.
Simple Gifts is the first club at CSH to register as a non-profit organization. The group holds several other benefit events throughout the year — usually around holidays and major events.
"We plan holiday parties for each shelter, give gift cards at Christmas, collect back to school supplies, collect winter coats and provide mother's with roses on Mothers Day," Puccinelli said.