Spring musical explores dark themes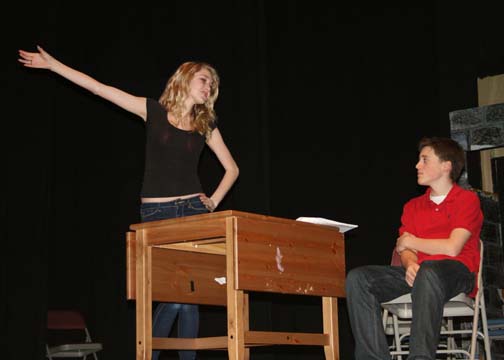 Ava Martinez
Reporter
Clothed in the flapper dresses and fedoras characteristic of the 1930s, the cast of "Cabaret" looks ready for a party — however, the spring musical explores more complex and somber issues than in past years.
Set in World War II Berlin, "Cabaret" follows the story of Clifford Bradshaw (senior Christian Gehrke), a visiting American writer who meets and falls in love with English singer, Sally Bowles (senior Lauren Arnold).
"Cabaret's plot is a lot darker than the movie adaptation," director Pamela Rickard said. "It depicts people's variety of ways that they don't deal with the issues around them, there are a couple of love stories, and cultural and religious stigmas get in the way of pursuing love."
Clifford's landlord, Fraulein Schneider (junior Maddie Kelley) becomes engaged to a Jewish greengrocer Herr Schultz (freshman Tannor Bragg), a risky decision due to the rising power of the Nazi party. One of the advantages of choosing "Cabaret" for the musical was its large cast and ensemble, according to Rickard.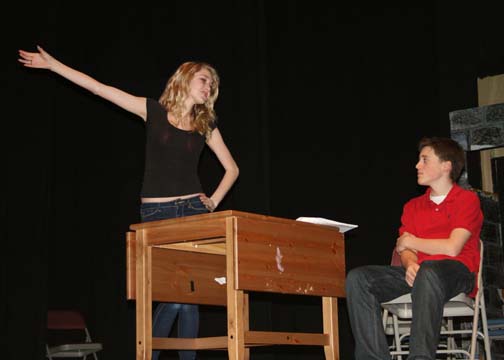 "Cabaret has a large ensemble, so we are able to include as many people as possible." Rickard said. "I also chose it because I like the story, the music is fun and accessible, and I had never done it before so I thought it would be fun to try it out."
The balance between dark themes and humor is one of the musical's strengths, according to Arnold.
"'Cabaret' manages to be a really fun play with entertaining dance numbers and story lines while also being a very serious drama," Kelley said. "It will make people want to both laugh and cry."
The story touches on controversial subjects such as homophobia and religion, however the cast has worked together to focus on the story itself, not the issues it brings up.
"It hits a lot of really touchy subjects that other shows have not," Arnold said. "We all have to come together and put aside our personal beliefs to help tell the story."
Arnold said that one of her favorite parts of working on the show is how hardworking her fellow cast members are, allowing for smooth rehearsals.
"The entire cast is very committed, so rehearsals are moving much faster than they have in the past," Rickard said.
The musical calls for not only a dedicated cast, but also a strong crew and musicians, according to Rickard. This year, the show is receiving some extra help from former students.
"We have four alumni working on the show," Rickard said. "Jessica Peterson ('10) is a rehearsal accompanist, Doug Greer (SHHS '10) choreographed some songs during winter break, and James Coyne (SHHS '07) and Huli Curry (SHHS '07) are members of the onstage band.
"Cabaret" will also benefit from a more talented tech crew, according to Rickard.
"We hired a new tech leader, Michael Schlatter, who has worked on productions for the Convent and Stuart Hall elementary schools and brought in a lot of new tech skills the our plays have not had before," Rickard said.
Performances for "Cabaret" are scheduled in the Syufy Theatre on March 17 and 18 at 7 p.m. and March 19 at 1:30 p.m.
(Visited 153 times, 1 visits today)