Stress fractures common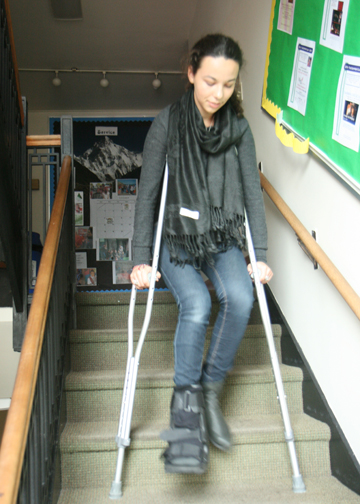 Liz Smith
Asst. Sports Editor
Sophomore Maddy MacLeod noticed a pain in her lower leg during last year's track season and thought it was a shin splint — an injury caused by stress on connective tissues of the tibia, best treated with rest or modified activity. After about three months of continued pain, MacLeod's doctor diagnosed a stress fracture in her tibia.
Stress fractures develop through overuse of a muscle, which results in a crack in a bone after the over-worked muscle can no longer absorb shock from repeated exercise.
"I had the stress fracture until it got to the point where I probably shouldn't have been doing any physical activities," MacLeod said. "Stress fractures can form from something as simple as shin splints, which is how I got mine."
Stress fractures form from constant pressure and overworking of leg muscles according to Dr. Richard Blake of the Center For Sports Medicine at Saint Francis Memorial Hospital.
"The bone fatigues with stress and cracks when the stress is too much to bear," Blake, who prefers the term "fatigue fracture," said.
Exercise can be good for the body, but too much of any one workout can cause injury.
Athletes with a high tolerance for pain most likely won't pick up on a fatigue fracture, according to the Journal of Musculoskeletal Medicine.
Stress fractures are common in athletics according to Blake, but athletes should wait until the body heals this injury before resuming activities.
"The body completely heals these fractures. In fact they heal them better than they were originally, called 'double healing,'" Blake said. "The bone around a stress fracture is probably two times stronger than before it broke due to the remodelling process of the bone for at least five to ten years."
Females are more likely to get more stress fractures than males, according to the American Academy of Orthopedic Surgeons.
The female athlete triad, the conditions that decrease women's bone mass and increase the chance of getting a fracture like osteoporosis and amenorrhea — a condition where girls' menstrual cycles are interrupted because of intense athleticism or eating disorders — is believed to be the cause of this.
MacLeod found herself in the workout room, away from most of the team doing cross training while her leg recovered.
"[I did things] like stationary bikes, leg muscle strengthening and upper body strengthening — basically anything that would keep pressure from off of my leg," MacLeod said. "I also had to go to physical therapy where they did really strange exercises with yoga balls and rubber bands, as well as using ultrasound technology to help heal the bone."
It is hard to determine in what sport athletes are most likely to get a fatigue fracture because sports often involve repetition of workouts and strength training drills to improve skills, according to Blake. But there are ways to avoid it.
"Smart coaches know a lot about preventing stress fractures by avoiding overuse situations and varying workouts," Blake said. "Getting the recommended doses of 1500 milligrams of calcium per day during months of strenuous workouts, training during the off season to avoid the excessive loads [when it resumes] are all ways to minimize risk of getting a fracture."
Resting also aids the healing process, allowing leg tissues to heal quicker as exercising with tired muscles puts more stress on the bones.
"An athlete should never work through pain or extreme fatigue," Blake said.
Keeping in shape while avoiding overexertion on an injury is beneficial, especially in preparation for resuming sports
"I do a large amount of strengthening exercises because the stronger the muscle surrounding the bone is, the less likely you are to get injured," MacLeod said. "It's important to keep in shape when trying to recover."