CSH basketball remains popular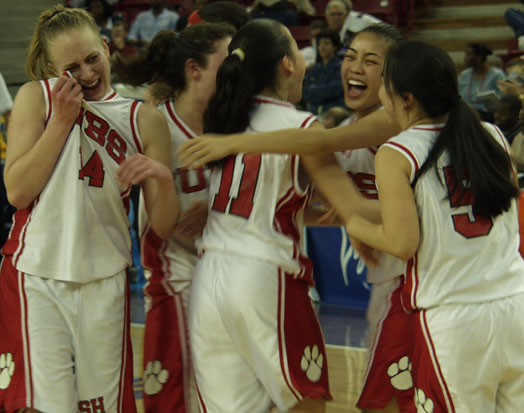 Hang on for a minute...we're trying to find some more stories you might like.
Ava Martinez
Reporter
Walking into a CSH basketball game is like walking into a parallel universe. Instead of the sparsely-filled seats typical of other sports, screaming students fill the stands with red and white paint streaked across their faces and hold glittery "Go Cubs" signs.
Although current students were still in elementary school when the varsity basketball team won the state championship trophy seven years ago, the enthusiasm for the sport still fills the halls.
"I remember hearing about how good the basketball team was even before I came to Convent," sophomore Jane Stephens said. "Within my first few weeks here, I knew about the team winning state because I saw the newspaper articles about it displayed in the Center."
Winning the state championship helped the team gain a local reputation, according to athletic director Elena DeSantis.
"Basketball was a popular sport even before winning states," DeSantis said. "However, the win did make the team better-known around the Bay Area."
In recent years, varsity has made the North Coast Sectionals (NCS), the Bay Counties League (BCL) championships and won the league championship.
It is this continued success that keeps fans loyal to the basketball team, according to captain India Pearce.
"I think winning state may have helped basketball become popular at one time, but now I think the reason the team has remained so popular after all this time is because we have made it so far in recent years, like last year when we made it to NCS [North Coast Sectionals]," Pearce said.
"I come to basketball games and wear red and white on basketball Cub Days because of how successful the team is now, not how successful it was seven years ago," Stephens said.
While the girls who brought the basketball team to a state win in 2003 had a lot of skill, it took more than that to take home the trophy, according to DeSantis.
"The talent on the team that won was one thing, but it was the heart and spirit of the team combined with strong leadership that led them to win," DeSantis said. "The support of the fans was also very helpful, the team had more fan support then than it has had since."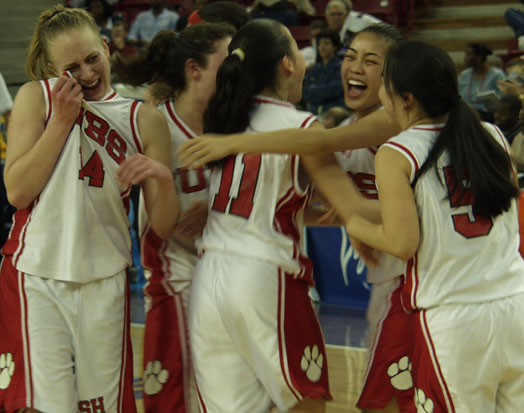 Out of the 10 players on the current squad, four are underclassmen, which is a change from earlier years when only one or two underclassmen made the team, according to Pearce.
"We definitely have a chance at winning our league, but I don't really think we will be able to make it to state, let alone win," Pearce said. "Because we have a young team, a lot of the players' heads aren't really in it."
Pearce says it is important to concentrate more on the future.
"Winning state is in the past and only happened once," Pearce said. "I think it is more important for our fans to focus on supporting our team now than it is for people to dwell on the past."
Senior Frankie Incerty said basketball successes will continue to have a major impact on spirit and excitement amongst student for years into the future.
"Even though [the championship] has been several years, I don't think it is going to be forgotten anytime soon," Incerty said. "People will continue to talk about it and the 'shrine' to the win in the Center serves as a constant reminder to anyone who may not have been there to see them win."

(Visited 98 times, 1 visits today)
Hang on for a minute...we're trying to find some more stories you might like.