Service trip repairs Hurricane Katrina damage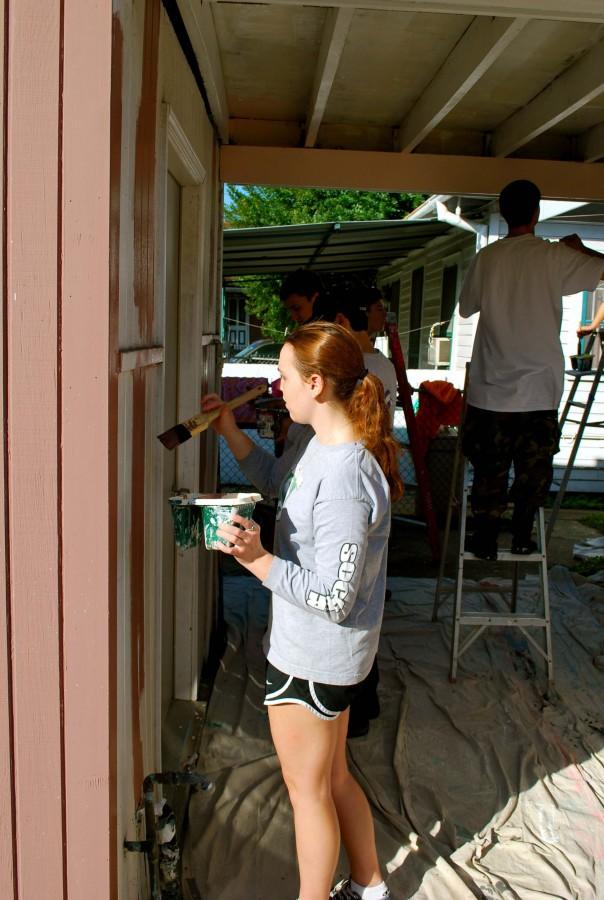 Rebecca Lee
Reporter
Three students spent their Thanksgiving Break repairing hurricane-damaged homes in New Orleans with seven Stuart Hall High School students.
"We split up the first day and worked together for the second and third," senior Pearl Plonsker, who worked with juniors Briana Wilvert and Dakota Chamberlin to fix the homes, said. "I've realized how lucky we are to have what we have, but there's still a lot more work to be done."
Volunteers worked on two houses, chipping away old paint to prepare one home it for a new coat and painting the outside of the other.
Hurricane Katrina forced more than 800,000 citizens to evacuate their homes five years ago. A total of 213,147 occupied houses and apartments were accounted for in 2005, compared to a decrease to 167,587 in 2009, according to the U.S. Census Bureau.
The students volunteered through Operation Helping Hands, a branch of the Catholic Charities Archdiocese of New Orleans, whose stated goal is "to provide safe, secure and functional housing as efficiently and affordably as possible," The charity relies on the assistance of volunteers to repair the dwellings of the elderly and disabled that were damaged in Hurricane Katrina. "[The trip] made me want to do more for the aftermath left by Katrina,"
"I liked the painting because I know I was helping someone repair their house who lost everything."
Students explored New Orleans during their free time, met students from the Academy of the Sacred Heart in Grand Coteau and took part in nightly reflections.
"It's way different there — the culture and how people talk," Plonsker said. " People are joyous, have hope and they have neighbors who they talk to every night."
"Everyone there is super friendly," Wilvert said. "They all say hello, hey, hi and ask how are you doing."
Students from the Academy of the Sacred Hear in Grand Coteau joined the volunteers at the Duschesne House for dinner after their first day of work.
"We are so similar no matter how far away the Sacred Heart school is," Chamberlin said. "We made food the 'Sixth Goal' of the Sacred Heart."
Reflecting upon their day's work, volunteers shared their experience about the service work with the girls from Grand Coteau.
"It was pretty normal for me because I'm Catholic," Wilvert said. "The reflections weren't overly religious but leaned to a more spiritual side."
A blog (http://www.sacredsfservice.wordpress.com) was updated during the trip with videos, photos and reflections from the students.
"It's really made me want to encourage other people to go and help," Wilvert said. "They could use all of the volunteers they could get."

(Visited 144 times, 1 visits today)