Bridge walk raises revenue, awareness for Ugandan school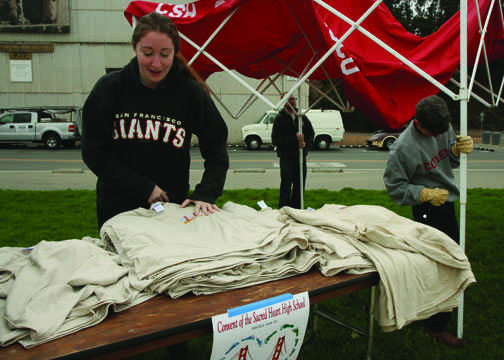 Mika Esquivel-Varela
Reporter
The four-school community came together for the Annual Walk for Uganda across the Golden Gate Bridge on Oct. 16 to raise money for the Sacred Heart Schools in Uganda.
"Last year we raised $3,240 and this year we hope to raise even more," Theology department chair Paul Pryor- Lorentz said. "Any contribution that can be made is a huge help for our sisters in Uganda."
A senior 5 advanced level student from St. Charles Lwanga Senior Sec¬ondary School for Girls wrote a letter to the four schools thanking them for their support.
"Many students receive financial aid which allows them to stay in school and receive a good education giving us hope," Norah wrote in her letter. "New things you have offered are the re-roofing of our old dormitories, the construction of the science block and also for the computer lab."
Despite the foggy weather, stu¬dents laughed as they snacked on doughnuts and made the trek from Crissy Field to the Golden Gate Bridge.
"I enjoyed having fun and also supporting a good cause," sophomore Cate Svendsen said. "I am planning on going to walk next year."
In addition to walking students and faculty also donated online. Walk for Uganda tee shirts are available for $15 from Theology department chair Paul Pryor-Lorentz.