Pine & Octavia campus hosts blood drive
Students, faculty donate blood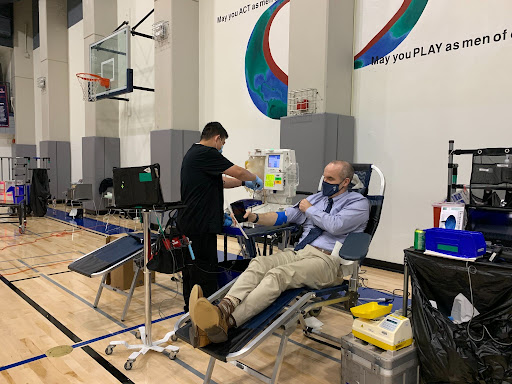 WEB EXCLUSIVE | Many faculty members and eligible students participated in a blood drive held by Vitalant Blood Donation on the Pine & Octavia campus on Thursday. 
Hosted in the Dungeon, the drive was the first of the year, but school officials say they plan to host more in the future.  
"This was the second time I donated blood and both times have gone super smoothly," senior Devon Carlson said. "I do it because I know it makes a big difference for patients in need."
Blood donations are commonly used in cancer treatments, childbirth, and in everyday emergencies. A single donation can save up to three lives, according to Vitalant's website.
"As someone who's had surgeries before where maybe I needed blood, it just feels like an easy way to contribute," Stuart Hall Head of School Tony Farrell said. "We've been hosting drives on this campus for more than 10 years and it's a nice thing to do as a part of the community." 
Donors were asked to fill out a health questionnaire before their donation and individuals under 18 had to receive parental approval. Additionally, participants wore masks and followed COVID-19 protocols. 
"Especially during COVID-19, as someone who's been lucky enough to stay healthy, I wanted to take this opportunity to donate," junior Peyton Falconer said. "It's not a hassle and it's a great cause so I would highly recommend it."
Individuals wanting to donate blood can sign up at one of Vitalant's permanent San Francisco locations or visit the American Red Cross's blood drive finder for more information on donation centers. 
"I know that blood and needles can be scary for many people but it wasn't painful for me," Carlson said. "Donating blood could save many lives."