Year kicks off with annual school dance
Student Council hosts tropical-glow-themed Carnival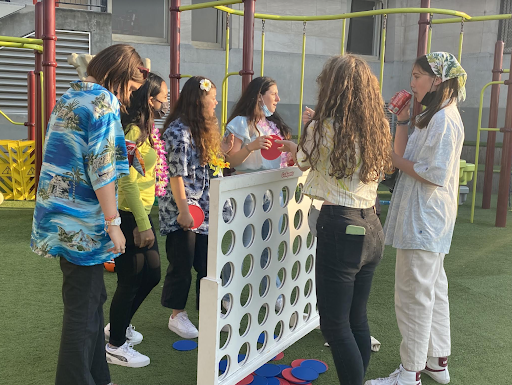 WEB EXCLUSIVE | After a long school day and sports practices, students could once again attend Convent & Stuart Hall's annual Carnival. 
The Carnival theme this year was tropical glow. Students were encouraged to dress in Hawaiian and tropical themed clothes including Hawaiian shirts, leis and neon, according to Student Body President Jennifer Surjadi. 
"We haven't had Carnaval in a long time so it's great to bring it back," Surjadi said. "Hopefully we can get the sophomores and freshmen involved since they haven't had a chance to experience it yet." 
In addition to dancing, students participated in games such as Janga, mini basketball, Spikeball, and trivia, according to Surjadi. 
"It is the perfect way to end August," freshman Ava Angel said. "I think it was a great way to get to know more people and socialize."
To accommodate COVID-19 regulations, all events were held outdoors on the Highland and Syufy Courts and pre-packaged snacks like chips and sodas were provided. 
"This is a big change from last year and I am really excited to see more people in-person," junior Emma Cameron said. "I think these carnivals help build community and bring people together."
The dance ran from 6-8 p.m., with students who were returning from sports practice able to join later. The Carnival had free admission and COVID-19 tests or proof of vaccination are not required, however, masks will be required only indoors, according to Surjadi.
"This was a fun way to start the school year and strengthen our school community," Surjadi said. "I still remember my first Carnival as a freshman, so it was hopefully a memorable and fun time for everyone at school, especially the new freshman."