Zoe Newcomb
News Editor
A significant change will take place next year as students at CSH and SHHS begin to participate in a program that will combine select courses with low enrollment into coed classes.
The program will endeavor to give students opportunities that they otherwise may not have in a single-sex environment, while striving to maintain the goals of a Sacred Heart education, says Head of School Andrea Shurley.
"What I hope happens is that new friendships are developed," said Shurley. "The experience of a Sacred Heart school goes beyond just the classroom. Luckily, Stuart Hall [High School] shares the same values as us, so we will be able to focus on what we believe in while enriching student experiences."
The tentative list of coed classes are primarily Advanced Placement and higher level courses, with more language classes possibly being impacted depending on the registration of the incoming freshman class. As of press time, the coed classes are BC Calculus, AP Biology, AP Chemistry, AP Computer Science, AP Spanish, AP French, and Psychology.
While the relationship between CSH and SHHS has long been apart of social activities like Supper Clubs and dances, coed courses represent uncharted territory for students — the classroom.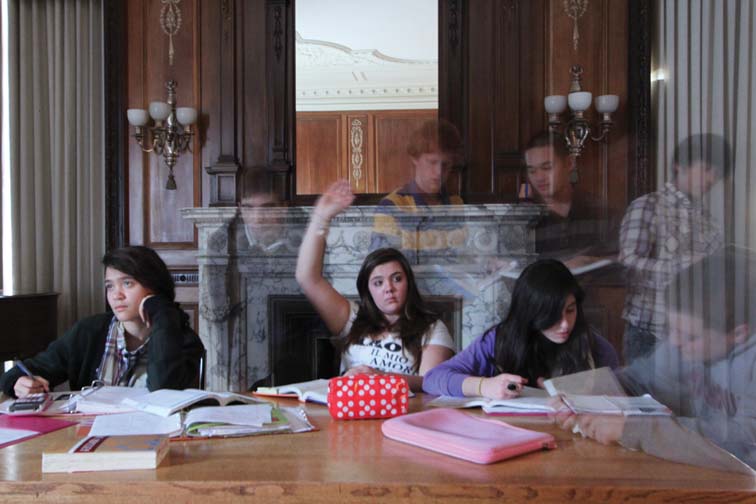 Many students, both those who are excited and those who are unhappy about coed classes, are not focused on the change because only a handful of classes will be affected. However, the combining of classrooms has created rumors about completely combining CSH and SHHS, despite administrators flatly denying that any such plans are in discussion.
"I'm not really worried about coed classes because I'm only going to have one or two classes effected next year," said junior Kristy Harty-Connell. "But I am concerned that if administrators become too focused on being coed that we'll lose the essence of the school."
Another source of debate among students is whether or not coed classes are being created due to financial struggles, another rumor that administrators have refuted, saying that while finances are considered in decisions, the well-being of students is always placed first and foremost.
"Every program change will have a budget repercussion, but the primary purpose of this program is to enhance the classroom," said Director of Schools Gordon Sharafinski. "The math was simple. It is a win-win situation, both financially and for the school."
Sharafinski says the reasoning behind creating coed courses is classrooms will be more dynamic with 10 or more students, rather than four or five students that would be in a single-sex classroom.
Some students feel that the addition of SHHS boys to the classroom will compromise the education they came to CSH for.
"I attend a single-sex school for a reason," said junior Tori Balestrieri. "If I'd wanted coed classes I wouldn't have decided to come to Convent."
Administrators say the most difficult part of creating coed classes is figuring out the logistics including moving students between schools which are several blocks apart, having enough bathrooms, and making sure teachers are prepared to teach in a coed environment.
"Our biggest goal is to have no more than one roundtrip [from one school to another] per student per day, and we are still in the process of negotiating the opportunity to have a bus to carry students back and forth," said Shurley.
At the same time, Shurley referenced studies showing that students think and focus better after physical movement, saying that walking the eight-tenths of a mile between campuses may even promote better learning. Having a bus may create issues with students who miss their pickup, and administrators are still discussing whether the opportunity would be valuable or not.
"We'll be working to utilize Siboni classrooms as much as possible because they have access to men's restrooms as well as empty lockers that students can use to store books," said Shurley.
Classrooms in the Flood Mansion will also be receiving new desks in the upcoming year, a decision that wasn't made because of coed classes, but willcoincide perfectly with the arrival of boys on campus.
Administrators have been meeting regularly throughout the year to develop the coed program, and will continue to meet throughout the summer.
Faculty will also meet within their departments to prepare for the coed classes and make sure that students from CSH and SHHS will be on the same page.
Despite rumors and concerns among some students, others are excited at the prospect of the classes that will include a new social aspect that students didn't get in previously single-sex classes.
"It's going to be interesting and more social," said SHHS junior Jonathon Kofi. "It's going to be like Breakfast Club, but academic."
Dean of Students Doug Grant, who has played a key role in creating schedules, says concern is normal and that ultimately students trust administrators to do the right thing.
"I like to think that students trust us," said Grant. "They know we will make the right decision, and have their best interests in mind."
Sharafinski says coed classes will only exist as long as they enhance the program.
"We think that students will be surprised to find that there is no difference between single-sex classes, and that it might be an interesting variation in the day," said Sharafinski. "It might even be a welcome change."