Punching out stress
Online boxing class gives a workout while sheltering in place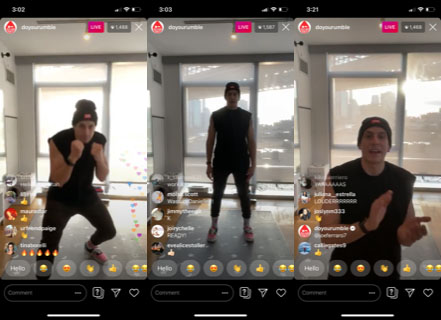 Despite the current health order to shelter in place, hip-hop music plays in a dark room as about 1,500 participants throw fierce punches in a boxing-inspired group fitness class that helps keep them fit in the comfort of their own home through the magic of social media.
"Doing Rumble's workouts on their Instagram Live has been really convenient for me," sophomore Sara Ramelot said. "I am able to follow along with the workouts easily allowing me to stay fit while the studios are closed."
The boxing-inspired fitness chain Rumble is hosting online virtual workouts through Instagram Live, allowing viewers to stay fit in their own homes. Sessions consist of throwing punches, hooks and uppercuts, as well as embodying high-intensity exercises such as sit-ups, burpees, mountain climbers and lunges. 
Prior to California's shelter in place order, senior Sunny Stuart had been taking Rumble classes at its Marina studio for three months.
"I do Rumble to help stay in shape and keep a structured lifestyle," Stuart said, "but it's also a great way to take out your anger or stress in a healthy manner."
Rumble classes can help build physical and mental strength for all fitness levels. Prior boxing experience is not required as instructors walk participants through each section of the training. 
"The instructors remain just as enthusiastic through the screen as they would in real life classes," Ramelot said. "Their positive attitude makes me a lot more motivated to get a good workout."
Rumble's schedule is posted on its Instagram @doyourumble. Times are posted with the local time of the trainer, so participants should be aware of a possible time difference that could make them miss a class.