Nine lives of clothing
Thrift shopping offers more eco-friendly alternative to fast fashion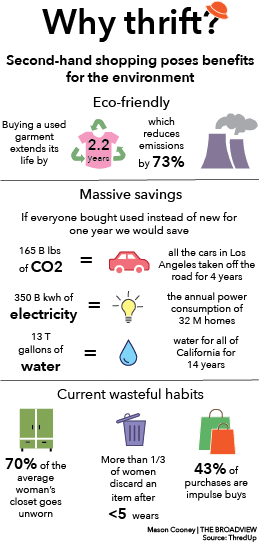 The sound of hangers click as senior Avery Van Natta makes her rounds through the Fillmore Street Goodwill on one of her typical thrift shopping outings. She starts with the jackets and makes her way through the aisles, looking for any pieces that jump out at her.
Van Natta is one of millions of shoppers who thrift, helping reduce the fashion industry's effects on the environment while building a personalized wardrobe and saving money.
"[Thrift shopping] is a lot more sustainable because the clothing is being reused and reworn," Van Natta, who has thrifted since she was 8 years old, said. "When you're not buying fast fashion, it's better for the environment because you're creating less waste."
Fast fashion, cheap, trendy clothing that shortens fashion cycles, has increased the rate that consumers purchase clothing but decreased the time each garment is kept, according to the World Resources Institute.
Almost 24 billion pounds of textile and clothing go into United States landfills every year, according to Goodwill Industries International.
"I like thrifting because you're not contributing to the process of new clothes being made," sophomore Virginia Morford said. "I really like Salvation Army and Buffalo Exchange for sweatshirts with really fun graphics."
Garment manufacturing produces about 20 percent of the world's industrial water pollution, according to World Resources Institute, with fast fashion brands like Forever 21, H&M and Zara, pumping out the latest runway looks on a weekly basis.
Thrifting, however, offers a wide variety of clothing, and 62 percent of consumers say they switched to thrifting because of constant new arrivals, according to ThredUp, an online consignment and thrift store.
Morford says she likes second-hand finds because they are often more unique.
"It's nice because no one else will have the same clothes as you," Morford said. "A lot of times I'll go into the men's section for sweatshirts to crop to make my size, and sometimes I go to the boys section and find graphic T-shirts."
Thrifting surged in popularity in 2008, and between 2016 and 2017 the number of women who shopped second-hand increased from 35 million to 44 million, according to ThredUp.
The thrifting trend is helping many resale stores such as Seconds To Go, a Convent & Stuart Hall-owned resale store on Fillmore Street. The store's proceeds benefit the financial aid program for the four divisions.
The store, originally created to upcycle uniforms, now also sells clothing for men, women and children as well as other merchandise. Store manager Amy Kronk says the resale shop attracts many of the regular shoppers on Fillmore as more consumers' eyes are opening to second-hand clothing.
"What people really love about our store in particular is that we have unique and valuable pieces," Kronk said. "We have a lot of collectible, one-of-a-kind things, whether it's a vintage piece or an old piece of glassware, china or jewelry."
Kronk says the store sometimes receives clothes with tags still on them but most of their donations are gently-used.
"If there is something that still has value that has a little bit of damage, we will sell it and mark on the tag that it is as-is," Kronk said. "We make sure the customer understands that we are aware there's something wrong with it, but that we still feel it could live another life."
Online resale shops including ThredUp, Swap and Poshmark let users upcycle their apparel without leaving home. Thredup, like other consignment stores, sells items online for users and returns a percentage of the profit.
Morford says she likes that buying second-hand does not contribute to the production cycle of fashion, and the markdowns from retail price also help her save money.
"I still retail shop, but thrifting cuts down my spending because I can get a lot more clothes for less," Morford said. "If I go thrifting, I won't have to shop for a while."
Van Natta says that shoppers who have never tried thrifting may like the treasure hunt aspect of it as they build a unique look.
"Thrifting really can help to develop personal style because each piece is different and special," Van Natta said. "Pieces like that really become pillars of one's personal signature."