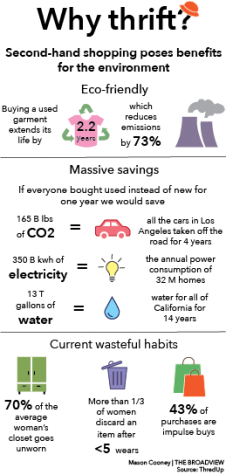 Mason Cooney, Copy Editor

December 13, 2018
The sound of hangers click as senior Avery Van Natta makes her rounds through the Fillmore Street Goodwill on one of her typical thrift shopping outings. She starts with the jackets and makes her way through the aisles, looking for any pieces that jump out at her. Van Natta is one of millions of shopp...

Neely Metz, Copy Editor

February 4, 2016
Colorful advertisements reading "Up to 75 percent off select items!" and "Fashion from $5!" cover buses, buildings and billboards in hopes of attracting potential customers, but behind the smiling models lies a world where people work for little more than slave wages and children sit behind sewing...