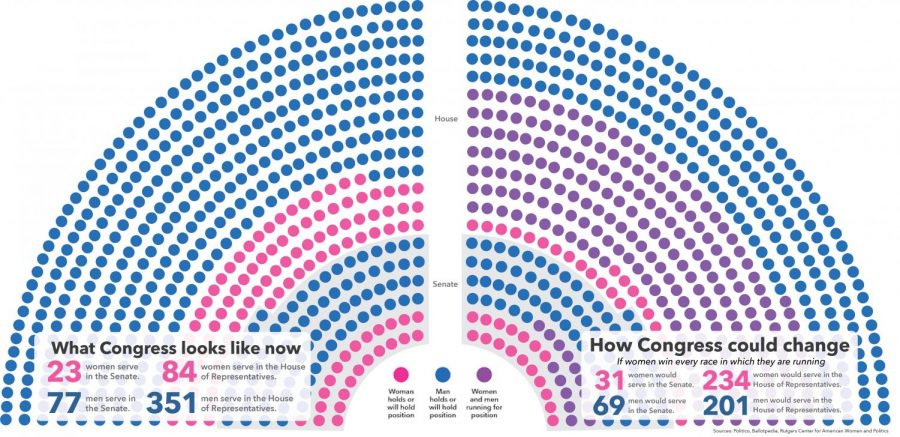 Year of the Woman?
Women are setting records, making history and winning elections. Is it our year?
September 27, 2018
Pink wave engulfs elections
Whether seen through swarms of pink knit-hats, social media posts tagged with #MeToo or the changing demographics of the United States government, 2018 is being called the "Year of the Woman."
This election season is breaking records with 53 women who have filed to run for Senate — 13 more than the record set in 2016 — and 476 women who have filed to run for the House of Representatives — 178 more than the 2012 record — according to the Center for American Women and Politics.
"The bare bones of it is that we make up more than half of the population, but we're not anywhere close 50 percent of elected offices," Fatimah Aure '99, Alameda County Director of the East Bay Women's Political Alliance, said. "When people settle on that and really think about it, there's no reason other than sexism why this is the case."
Women currently comprise 23 percent of the Senate with 23 female Senators and 19 percent of the House with 84 female Representatives. Sixty-one women are running in gubernatorial races and 64 women are running for lieutenant governor, both numbers breaking records set in 1994.
This year's unprecedented number of female candidates is reminiscent of the elections of 1992, also dubbed the Year of the Woman, when what was then a historic number of females ran for office. Eleven women ran for Senate and 106 women ran for seats in the House, according to the Office of Art & Archives of the United States House of Representatives.
The swell of female candidates in 1992 partially stemmed from the testimony of Anita Hill at the Supreme Court confirmation hearing of Associate Justice Clarence Thomas, Senator Dianne Feinstein — one of the four women elected to the Senate in 1992 — said in The New York Times' podcast, "The Daily."
"What I remember was an all-male table, and I watched [Hill] being somewhat berated, asked some demeaning questions and she was even accused of lying," Feinstein said on "The Daily" podcast. "I think change happened at that moment. What I am thinking to myself is 'Can I change this?' and what happened then was kind of a ground swell. Did it move me to action? Yes and the action was to run."
Presidential Candidate Hillary Clinton's 2016 defeat spurred the increased number of female candidates running for office, Aure said.
"When Hillary Clinton lost the presidential election in 2016, it really fired a lot of women — especially young women — up because it pointed out the fact that there needs to be change," Aure said.
Senior Caroline Schulberg, club head of EmpowHER, cites a changing, encouraging environment as the cause of the influx of female candidates.
"This is a critical moment in our lifetime where women for the first time feel supported by not just other women but men as well," Schulberg said. "With the changing dynamics of our world, there is greater female empowerment which generates an overall feeling of confidence and ability to be a leader, despite your gender."
Of the 53 who filed to run for Senate, 23 are still in the running after the primaries with 239 of the 476 original House candidates still in the race, according to CAWP.
No matter the outcome of the elections, however, Aure says the number of female candidates is an important step in the right direction.
"Even if all of these women who are running don't go on to win, just being able to see women pursuing elected office and pursuing gender parity is great because we can't be what we can't see," Aure said. "Once women see women running for political office normalized, it makes it that much easier for the next woman to run for something in her community that she might not have had to confidence to do otherwise."
Even when not running for office, women increasingly support each other and female candidates, according to Schulberg.
"There's definitely an idea of power in numbers," Schulberg said. "If a woman runs, then other women feel the need to be right there and support her as well. It definitely inspires other women to join the movement."
The midterm elections will be held on November 6. The number of female candidates that will be on the ballot is a statement to the world, says Schulberg.
"Women are equal citizens and equals human beings," Schulberg said. "Whether they are successful or not, it is a major statement and message to the world that we're here and we're not going anywhere."
Leave a Comment
Teens help campaigns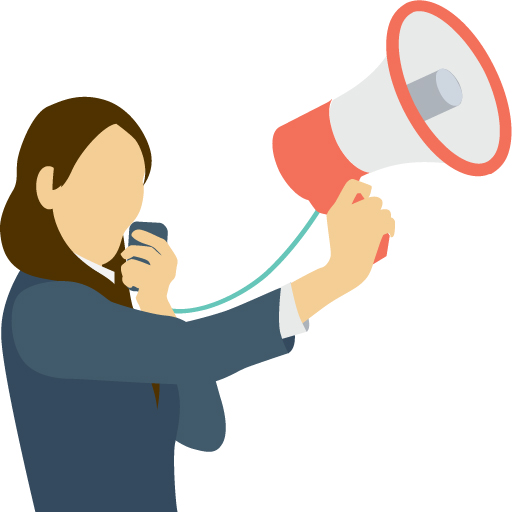 Although students under 18 years of age are unable to vote in the November midterm, there are other ways teens and non-citizens can get involved in political races.
"Every campaign throughout the entire country needs volunteers," Sophia Slacik '16 said. "They are always looking for people who are dedicated and motivated to help out, so if you find a local race in your community and show up and put in some effort, then you are going to be treated like a valuable asset."
Slacik first began working for campaigns in high school and has continued into college. She is currently volunteering for Buffy Wicks who is running to represent the East Bay District 15 in the State Assembly.
"I really like being able to get behind someone who I believe in, but also someone who is a woman, who I can identify with," Slacik said. "It's important when it comes down to the legislation and changes made to have a woman's perspective in terms of policies on family, women's rights and reproductive issues."
Junior Isabelle Paul volunteered for Hillary Clinton's 2016 presidential campaign, where she sent text messages to voters in smaller counties in swing states, reminding them to vote and helped citizens register to vote.
"I brought in friends with me a few times to help volunteer," Paul said. "It's nice to be involved in something bigger than yourself and to support something you believe in."
Paul is currently volunteering for Suzy Loftus's 2018 campaign for San Francisco District Attorney.
"Volunteering on a campaign inspired me to look at the world with a different view," Paul said. "I never realized how many people it takes to get something done in this country."
Similar to Slacik and Paul, senior Isabella Bermejo wanted to gain experience by helping with a local campaign and is currently volunteering for lieutenant governor candidate Eleni Kounalakis.
"When I was growing up, I saw government positions as like something that was very male," Bermejo said. "It's very cool that I have been able to work for her and get to know her campaign."
Slacik says she likes the fast-pace and dynamics of working on a campaign.
"I am constantly learning about what's going on in the news, legislation that is passing and interesting groups in the community," Slacik said. "It is never the same old thing."
Leave a Comment