Mason Cooney & Jordan Russell
Classes pause for National School Walkout
March 14, 2018
WEB EXCLUSIVE Hundreds of Convent & Stuart Hall students left class this morning at 10 a.m. to participate in the National School Walkout, a student-led, nationwide protest in support of stricter gun control measures.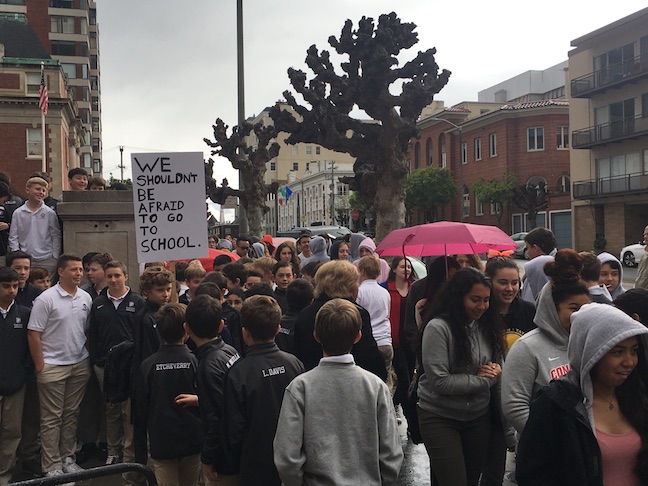 "It's really important that students take a stand on these kinds of things, not just teachers and parents," senior Natalie Scheele said. "We're the ones it's affecting."
Convent High School students first milled around outside the Flood Mansion before heading down Fillmore Street chanting "Safety in schools, enough is enough," as neighbors cheered with them and drivers of passing cars — including a UPS truck — honked in support.
Sophomore Jacqui Carlson handed out orange pre-wrap, which several students fashioned into headbands as they marched.
The color orange, often worn by hunters to identify themselves as humans rather than prey in the woods, was appropriated by gun reform organizations as a symbol of "a future free from gun violence," according to Everytown for Gun Safety.
"When Rosie Morford sent out the email saying that orange is the color for gun control, I thought 'Well, instead of having it sit in my room waiting to be used, I can give it out to people and have it mean something to them," Carlson said.
Faculty supported the students who chose to spend 17 minutes outside in recognition of the 17 students who died at Marjory Stoneman Douglas High School on Feb. 14 by ceasing instruction, and many AirPlaying a slideshow of the victims' names on the screens in their classrooms.
"Recognizing how much this has affected teens and how much teens have had a very vocal response to this, [we wanted] this to be an expression of whatever the students were feeling," Head of School Rachel Simpson said.
Students voiced support for gun control measures such as regulation of AR-15 semiautomatic rifles, banning high-capacity magazines and bump stocks, requiring stricter background checks, and calling on legislators to stop accepting donations from the National Rifle Association.
"Gun control is such an important thing, and it's such a frustrating topic that Congress hasn't done anything about it," Carlson said. "If we show them we're walking out, standing with Parkland, it's really important."
Laura Mogannam, Josephine Rozzelle, Mason Cooney, Cece Giarman and Jordan Russell contributed to this story.