Blessing of the Animals attracts a variety of pets
Pets ranging from dogs to iguanas gathered in front of the Flood Mansion this morning to be blessed in celebration of St. Francis of Assisi.
"Today is the feast day of St. Francis of Assisi, who is the patron saint of San Francisco," Rev. Eddy Gutierrez said. "He firmly believed that we should care for all of God's creatures and today's Blessing of the Animals is really just an affirmation of that."
Students from all four divisions brought their pets to the ceremony, which began shortly after 8:30 a.m. Most classes were represented, according to Gutierrez, including sophomore Miley Sherman who attended with her cockapoo, a mix between a cocker spaniel and a poodle.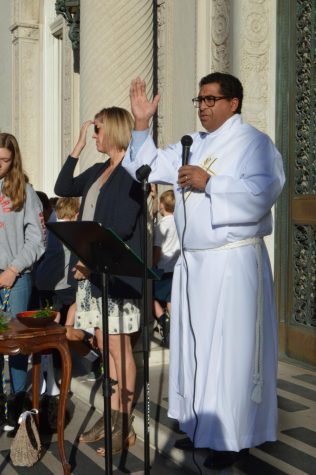 "Blessing of the Animals was a really good event to get our whole community together," Sherman said. "It makes us think of the little things in life that make us happy, like our pets."
Gutierrez says he saw many kinds of animals, including dogs, cats, turtles, birds, guinea pigs, an iguana, a snake, and a rabbit. Some of the younger students from Convent Elementary brought in stuffed animals for a blessing as well.
"I thought it was super fun," sophomore Cat Webb-Purkis, who brought in her dog, said. "We got to see a bunch of people bring in huge animals and even fish."
The attendance of students and animals this year exceeded last year's, according to Gutierrez.
"We are a Catholic school and this is part of who we are as Catholics and the traditions we have,"  Gutierrez said. "I think it's important to be able to showcase more of that."