Employing career opportunities
Teens find jobs to develop work experience, save for college.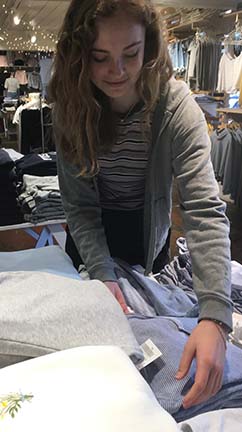 Cece Giarman & Emily Kanellos, Reporters
March 9, 2017
While many teens prefer to spend time after school playing sports or socializing, others swap racquets for retail, cleats for customers, or Netflix for non-profits.
Senior Delaney Moslander scans athletic tickets, ushers guests to seats and greets spectators at University of San Francisco's athletic games through Southern California Edison Guest Services.
"I am a big sports fan, and my job gives me the opportunity to not only make money but also watch USF sports games," Moslander said. "I'm also hoping to go into sports medicine, so I watch the athletic trainer to get a first look at how to handle game injuries."
Student employees possess a broad range of jobs from retail to education and customer service to nonprofit work — clocking in for six to eight hours, according to a Broadview survey in which 23 percent of the student body responded.
All students surveyed said they enjoyed having jobs, even when faced with time constraints and stress.
"I enjoy my job, but managing my time has been really difficult," senior Grace Apple, who works at y&i Clothing Boutique, said. "That being said, I've learned that, if I know I have a shift coming up, I should try to get homework done the night it is due."
Jobs can help young women develop valuable skills such as time management, commitment, saving money and even filling out tax forms or job applications, according to Apple.
"Student employees learn a lot about teamwork and relying on each other to get things done," Sydnie Gradek, who is District Manager at Liv Fashion Boutique said. "They also learn a lot of communication and independence. Normally it's only one, maybe two people at the store during open hours, so girls have to be able to handle a lot of different situations.
Fifty percent of student employees say they originally sought employment to save money for college. Following that, a quarter of remaining respondents said they have a job to spend the money on whatever they please.
"
I would definitely suggest getting a job to teenagers who don't have one. It's so nice to be able to make your own money.
— Delaney Moslander
"I chose between doing an extracurricular activity after school and a job, and I figured I might as well get paid for my time," senior Logan Evans said. "I don't have to pay for tuition, so I just like having money on hand for when I need to buy 10 boxes of ramen or something."
Besides having pocket money on hand, having an income affords students a sense of pride in their communities, according to Moslander.
"I would definitely suggest getting a job to teenagers who don't have one," Moslander said. "It's so nice to be able to make your own money — to buy something and think, 'I made that money by working hard.'"