Community celebrates International Women's Day
The community celebrated International Women's Day with red buttons declaring "Be bold for change" and an opportunity for students and faculty to commit themselves to a specific issue of gender equality.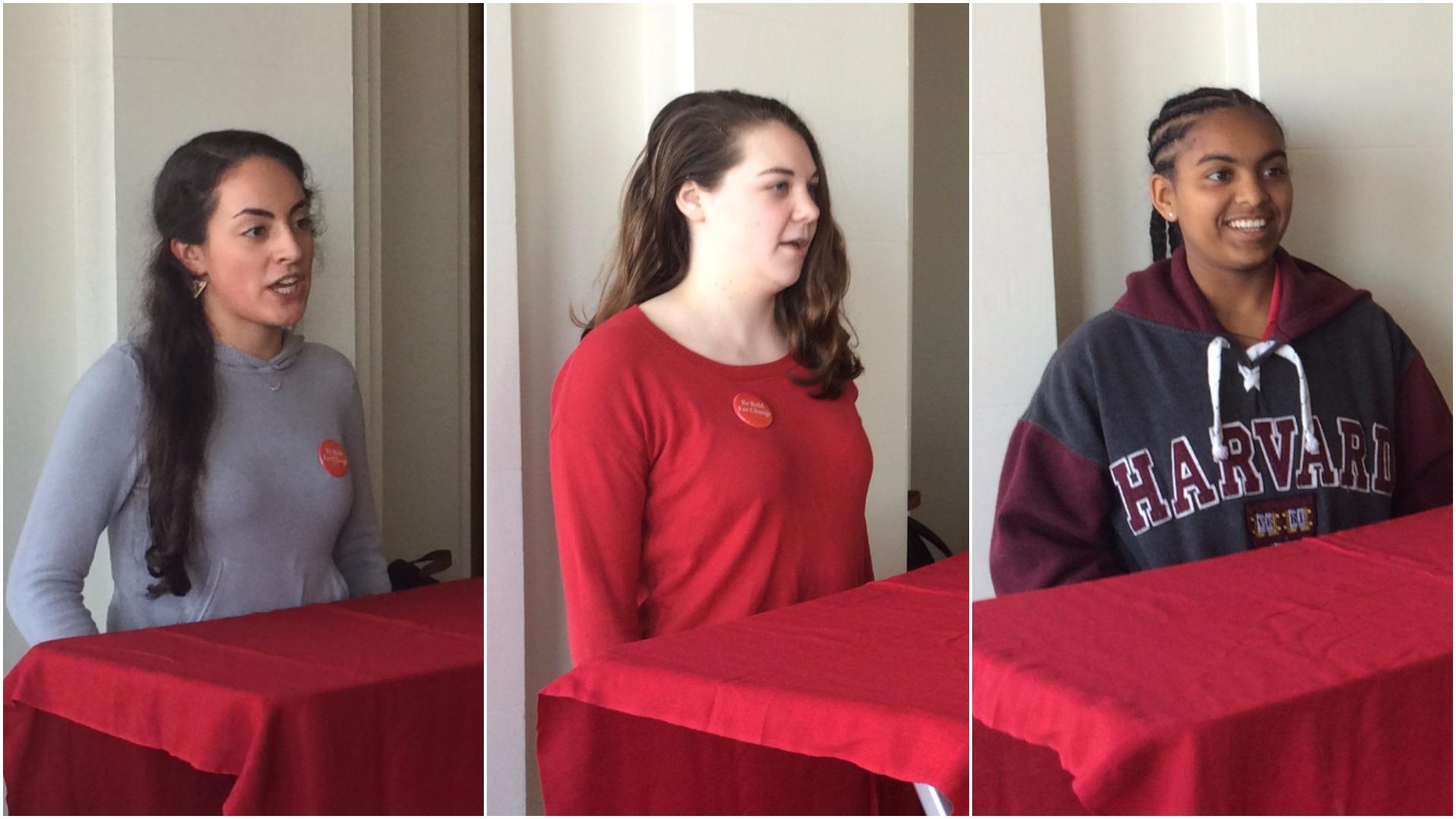 "I want to be bold for women in the technology field," junior Trinity Lee said. "There's a great disparity in the power dynamic for women in jobs like computer engineering and programming."
Director of Student Life Devin DeMartini-Cooke handed out the pins in the Belvedere at lunch and filmed students and faculty declaring what they wanted to be bold for. Pins were also available in the Gallery for the rest of the school day.
The International Women's Day Campaign's 2017 theme is "Be bold for change," asking people to "forge a better working world, a more gender inclusive world" and encourages participants to be the catalysts for change in their communities, according to the campaign.    
Despite not being officially recognized in the United States, International Women's Day is a national holiday in over 20 countries, including Armenia, Cuba, China and Russia.
"International Women's Day deserves to be acknowledged federally," Lee said. "This is such a patriarchal society, and the challenges faced by women are so great that the struggle for gender equality at least needs to be recognized."
Organizers of the Jan. 21 Women's March on Washington encouraged people to celebrate International Women's Day by taking part in "A Day Without a Woman" — a national movement calling for all people to wear red as a sign of support, and for women to take the day off work and avoid shopping for one day to demonstrate the significant economic impact they make.
"This day is an opportunity for us to come together and think about how you, as students, can engage in shaping the future or how we, as educators, can prepare our students to 'be bold for change,'" DeMartini-Cooke said.
Celebrating events such as International Women's Day illuminates the Sacred Heart commitment to making the world a better and healthier place for all, according to DeMartini-Cooke.
"If 'empowered women empower women' what will you do? If [St.] Madeleine Sophie [Barat] was alive today, how would she engage International Women's Day?" DeMartini-Cooke said. "That is what I thought of as students shared who or what they are being bold for."