Siboni recovery demands flexibility, patience from community
A science experiment damaged a sprinkler head in the physics lab yesterday, resulting in closure of the Siboni Arts & Science Center and demanding flexibility from students and faculty as the administration determined class locations.
"I want to thank you all in advance for your patience in this matter as we determine next steps," Head of School Rachel Simpson said at a special assembly this morning. "The way we handle this situation will test some 21st century skills, like adaptability and nimbleness."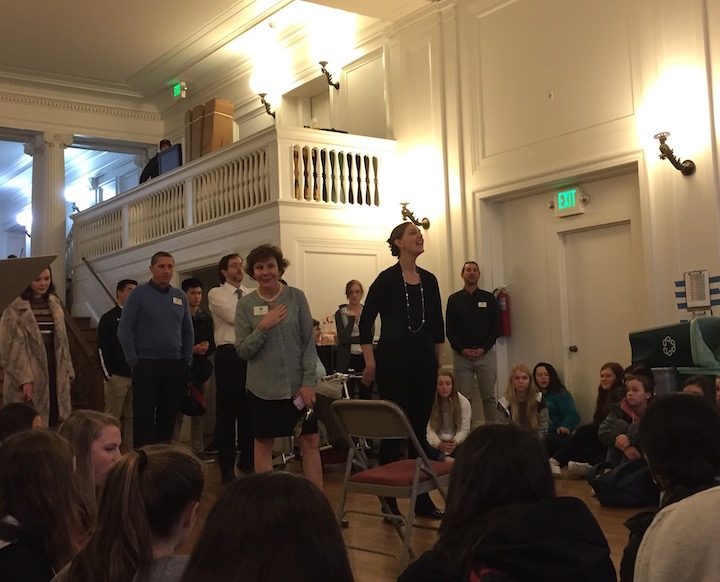 The lower, first and second levels of the Siboni building suffered extensive water damage when a charged sprinkler head snapped off the ceiling in the physics lab, flooding classrooms and hallways and causing water damage to the theater and control room, according to Plant Operations Director Geoff De Santis.
Students reported seeing black liquid all over the floor and smelling gas yesterday, but De Santis confirmed the only damage was due to water.
"People probably panicked in the heat of the moment, jumping to conclusions about what was going on," De Santis said. "The water did look dark due to sediment that naturally builds up in the pipes and gave off a distinct odor due to the stagnation of it sitting in the pipes, but it was not gas."
Air movers and dehumidifiers will work for the next 48 to 72 hours to dry up floors, walls and ceilings. Once the building is dry, carpets, ceiling tiles, linoleum floors and some cabinetry and furniture will need to be replaced.
The building will be inaccessible until after Winter Break, Feb. 18-26, due to cleanup and repairs, forcing students and teachers to relocate classes to other areas on-campus or Stuart Hall High School through next Friday.
"I had to go to Stuart Hall today for both math and chemistry, but it wasn't that big a deal," sophomore Caroline Phillips said. "It was kind of an inconvenience, but it was a cool community thing, too, because I ended up asking people who I'd never talked to for directions."
The incident affected math and science teachers the most as they scrambled to adapt lesson plans and find classroom supplies.
"My biggest challenge was not having textbooks," math teacher Amy Leaver said. "My students keep their books in the classroom, plus I didn't have the whiteboard wall [space] for them to work out problems."
While the damage was major, no one was hurt during the incident, and all backpacks and bags were salvaged.
"I am not going to be mad or frustrated about this because it was an honest mistake," Phillips said. "I just hope it gets resolved quickly."
Reporter Cassie Eskicioglu contributed to this story. 
Tomorrow's rearranged classroom assignments are below.