Cassie Eskicioglu, Senior Reporter

November 2, 2017
Society of the Sacred Heart, which dates back nearly as far as the founding of America as a nation, is looking to 2018 to celebrate the 200-year anniversary of its internationality. Philippine Duchesne continued the efforts of Madeleine Sophie Barat by founding the first Sacred Heart school outside of France in St. Charles, Missouri in 1818. "The 200th Annivers...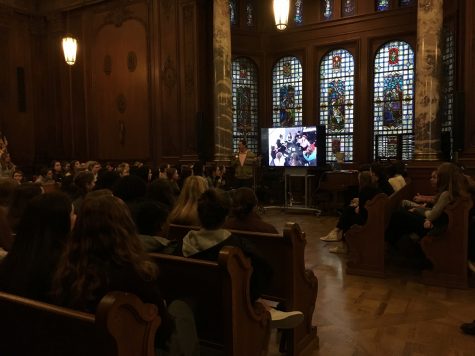 Claire Devereux and Claire Kosewic

January 23, 2017
Today's chapel theme, "Courage and Voice" focused on the sophomores experiences on the President's annual Costa Rica trip, while also addressing the presidential inauguration and the subsequent displays of "voice." L.I.F.E. Director Sergio Vasquez led the service, which began with some context about the Sacred Heart of Jesus and the courageous journey St. Philippine Duchesne undertook to bring girls' education to the United States. Vasquez then related Duchesne's experience on the ship Rebecca to t...