Charlotte Ehrlich, Editor-in-Chief

September 25, 2020
It's one thing to sit in your room in September of your senior year seeing your friends and teachers through your computer screen — we've gotten used to that now. But it's another to glance outside your window to find a dark orange sky looming over your normally foggy city.  Even with chok...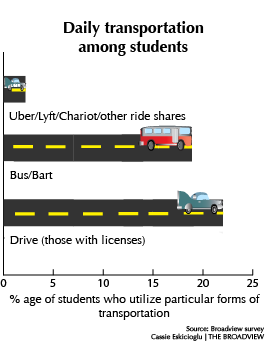 Cassie Eskicioglu, Senior Reporter

February 8, 2018
Ubers, Lyfts, taxis and buses cruise the streets of San Francisco and offer rides within seconds, having teens question the necessity of having a driver's license. "I haven't gotten my license yet because there are so many other options," junior Caroline Phillipps said. "If I want to get somew...