Conference to convene alumni/ae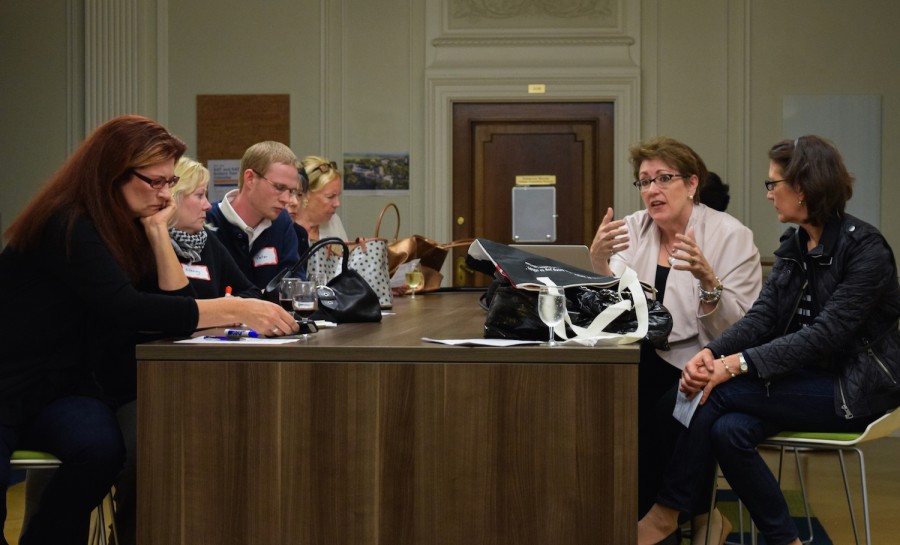 Graduates of the four schools congregated in the Gallery last Thursday to discuss volunteer opportunities for the upcoming Associated Alumnae and Alumni of the Sacred Heart conference.
San Francisco is the next host of the biennial 2017 AASH national conference, with a theme of "Journey of the Heart: A Global Vision," according to AASH president Mary Forsyth.
The location of the national conference rotates, and the 2015 conference was located in Boston.  
"Because you are here, you want to give back," Conference Chair Jeanne Asdourian ('79) said during the Call to Conference, after explaining plans for the upcoming event.
The Goals and Criteria will be a recurring theme throughout the conference, according to Asdourian.
"We have the Five Goals here that we live by, that we do everything by," Asdourian said. "We are hoping that at a certain point as an alum, that you still incorporate the Five Goals in your life. It's revisiting the Five Goals in a different light, in the light of an alumna, not a student."
Conference planners hope to draw in alumni who are part of the community of alumnae and alumni from Sacred Heart education but are not currently members of AASH, according to Forsyth.
"A lot of our younger alums in the past have chosen not to participate and one of the goals of this committee is to really provide alums in the Bay Area a lot of good reasons to come to both the programs and to some of the social events," Forsyth said.
Attendees brainstormed techniques to help the planning committee reach out to younger alumnae and alumni including using social media to create a buzz around the event.
Other announcements will be made through the Network of Sacred Heart Schools, using local school publications, according to conference advisor Lorraine Scullion ('76).
Male Sacred Heart graduates are invited to the conference but rarely attend, according to Scullion.
"It's embracing those graduates, those families who have made a comment to recognising the value of education young men in the same traditions and beliefs as educating young women," Scullion said. "It's a natural progression that the alumni of those schools would embrace the same activities and opportunities."

(Visited 88 times, 1 visits today)