Juniors begin ground-breaking efforts
Service project bypasses borders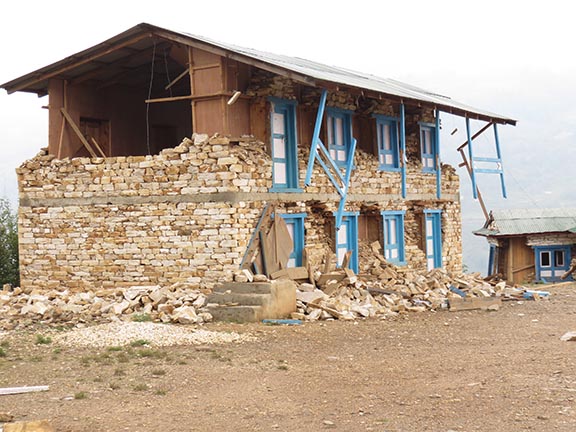 Following the devastating 7.8 earthquake that flattened cities in Nepal last April, six juniors have come together to rebuild a school from ruins.
Project Nepal, a chapter from the service-based club Students In Action, is taking their services international with a plan to raise money to help rebuild an elementary school and parts of a Chyangba village.
"After I heard about the earthquake, I found it interesting, and it was something I wanted to become involved in," project secretary Kailey Honniball said. "Most people are mainly focused on the bigger cities that were hit by the earthquake, but we are focused on aiding a smaller village."
The earthquake killed more than 8,800 people and injured nearly three times as many, leaving cities in ruin.
Stuart Hall's SIA Team proposed the project, and they asked a few individuals to take on the project, turn it into a non profit and launch it, according to creative director Olivia Hoekendijk.
"We joined SIA at the beginning of last year because Julian Moreno (head of SIA team) encouraged us to," project director Dylan Kelly said. "At the end of last year, Stuart Hall theology teacher Ray O'Connor introduced the idea of working with a village in Nepal."
After the paperwork is completed to gain nonprofit status, the group plans to think of fundraising ideas and reach out to different companies for sponsorship, according to public relations director Gia Monachino.
"Our goal is to raise $25,000 and right now we are applying with the IRS to become a nonprofit," Kelly said. "Once we get that, we can actually begin fundraising. We hope to start building during the summer."
Project Nepal has posted a trailer introducing the project that is on their website, project-nepal.com, and plans to devise marketing statements to gain attention and support.
"I do a lot of the visual stuff for the website and making videos to promote it," Hoekendijk said.  "We are going to show videos at assemblies and try to get people to donate and just support the cause."
Project Nepal embodies Goal Three, "a social awareness compels to action," as students are acknowledging a major devastation to so many people in Nepal and responding to it in their own way.
"I really wanted to become involved in a service opportunity that is hands-on," Hoekendijk said. "I think we can really make a difference in a community that is under such suffrage."