College applications demand more than time from seniors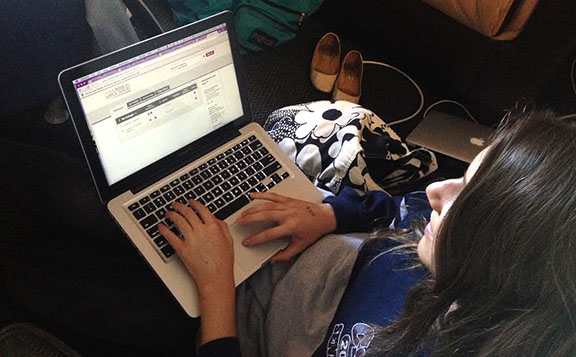 From trying to present a worthy applicant to answering the question "who am I?" the college application process demands more than just time from seniors.
Colleges charge for applications to pay admissions staff and to make students only apply to schools they want to go to, according to College Counseling Director Rebecca Munda.
"If all applications were free you would probably see students applying to more colleges than what is appropriate,"  Munda said. "It helps show that students are applying for authentic reasons."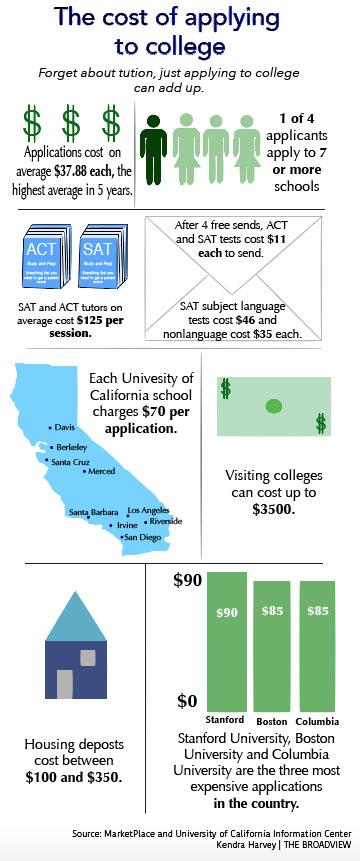 The required parts of an application have costs add up.
"You have to pay to send your scores, you have to pay for an application, you have to pay to take the test; all these things you have to do you have to pay for," senior Jennifer Quillen, who is applying to 8 or 9 colleges, said. "But it's their choice and you can't really get around it."
The nerves of college acceptance adds to the stress of paying for each application, according to senior Julia Praeger, who is applying to 10 or 11 colleges all on the Common App.
"I find (application expenses) a little absurd," Praeger said. "I am paying them to just consider me, even if that is just to be denied. But I still understand why they have to do it."
There are free alternatives for ACT and SAT tutoring from the College Board website such as practice tests, test books and other resources, but some students opt to pay for a tutor.
"It has definitely made me want to try a lot harder and do a lot better on the scores," Praeger said about the tutoring she has had for the past year. "There is a number that I have been aiming for and the first time i took the test. If I want to get into some of the schools I want to go to, I need to get that score."
Families can be conflicted about costs of applications, leading students to be more considerate about which colleges they apply to. Eight to 10 schools is a realistic number, according to Munda.
"This is a process that is not expensive and that's why we really talk about being thoughtful about the application process and managing the college list in an appropriate and manageable way," Munda said.
Students should consider the time and money each application takes when finalizing a college list, according to Munda.
"Students really want to be thoughtful about their college list," Munda said. "They should apply to schools they are genuinely interested in and have a realistic shot at being admitted in so this money goes to good use."
(Visited 196 times, 1 visits today)