Senior Tea leads into Graduation Week
The Senior Class, standing in a half circle in the Belvedere, flaunted their newly revealed white graduation dresses as they received congratulations from faculty, staff, parents and friends at Senior Tea.
Invited guests stretched in a line across the Main Hall, and greeted each graduate with hugs or by shaking their white-gloved hands.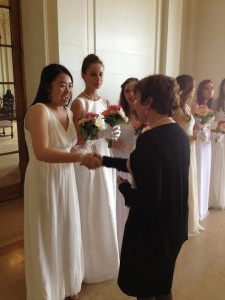 "I am most excited to say bye to all of my favorite seniors" junior Victoria Oestermann said. "It will be great to say our final goodbyes before they take on their next journey."
The two-hour special occasion for the first formal parting marks the beginning of Senior Week festivities leading up to Friday's graduation.
"I love having the opportunity to congratulate each of them individually for the amazing work that they've done these past four years," chemistry teacher Christy Cinti said.
After the greeting portion of the event, guests gathered with the Class of 2015 in the Reception Room for a variety of hors d'oeuvres and tea. A slideshow played during the reception with pictures of the seniors dating back to freshman year.
"Convent has a lot of amazing traditions and this is the first of many that only the seniors get to fully enjoy," senior Quinn Moslander said. "This is a great way for us to move on to adulthood from high school."