Renovations and maintenance for Mission Dolores Park near completion
San Francisco residents anticipating the reopening of Mission Dolores Park are closer to the park's reveal, as renovations are expected to be complete in early June.
Renovations have taken place in three stages over the past seven years, beginning with the playground in 2009, followed by the north half of the park, and recent construction in the south half.
"The most notable of all the changes in the park itself have been huge areas of it fenced off," local resident Karen Solomon said. "All the people who have been gathering in the park have had to gather in a smaller, more concentrated area."
The park receives up to 10,000 visitors on a good weekend, according to Recreation and Parks Director Phil Ginsburg. Eight 96-gallon, 20 30-gallon and a six cubic yard garbage containers are unloaded twice a day, and yet the garbage accumulation exceeds this on a typical day at the park.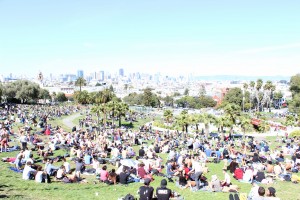 "Given the small space of the park, and the concentration of garbage and filth, and all of the problems that have come from public drunkenness in the area," Solomon said, "I don't understand why the city is not more in pursuit of writing fines for littering and putting a stop to public drinking, both of which are against the law, it's just a matter of enforcing it."
The Clean and Safe Neighborhood Parks Bond provided a grant for $13.2 million of renovations in 12 parks after local voters approved in 2008. Park improvements include new irrigation systems, pathways, entrances and enhanced disability access, according to San Francisco Recreation & Parks.
"I know that the drainage was a huge issue," Solomon said. "I remember once stepping in a mud puddle, almost up to my knee."
Construction workers extracted soil in late March to replace and upgrade the irrigation drains which in 2010 attributed to the park moving from 10th-lowest-ranked park in San Francisco by the Parks Annual Report from the City Services Auditor to third-lowest-ranked park.
"If you look at the current grassy areas, they are pretty run down, so having some new grass well established is going to be nice to perk up the general shape of the park," math teacher Chris Person-Rennell, who lives in the Mission district, said.
The project was delayed a month when $100,000 damage was caused by two teenagers who broke in, scattered glass in the sandbox and hot-wired construction machinery in early March.
"The city did an adequate job alerting people that these changes were happening," Solomon said. "And a really poor job of pouring all this money into the park, and then not doing anything to protect their investments."
Residents were invited to become involved in park clean-ups and community meetings by the non-profit advocacy organization Dolores Park Works.
"I hope they preserve what they set out to do," Solomon said.