A lifetime on Broadway gives girls perspectives.
Madeleine Ainslie
Managing Editor
The 13 girls who have spent the last 13 years attending kindergarten through 12th grade on the Broadway campus have likely eaten more lunches at Schools of the Sacred Heart than they have in their own kitchens.
"It's cheesy, but Convent has really become my second home over the years," Caroline Lo said. "I've spent so much time here that I've essentially grown up on these campuses."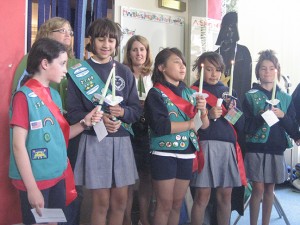 Commonly know as lifers, 29 percent of the Class of 2015 has spent the past 13 years on Broadway Street.

"Being at Convent for 13 years has made me a really confident person," Franny Eklund said. "Convent has taught me to advocate for myself and value myself as a woman and as a feminist."
Growing up in an all-girls small environment has made these girls more self-assured, according to lifer Amanda Mah.
"It's helped build up my self-confidence as a leader especially and given me opportunities that a larger, coed school wouldn't have been able to," Mah said. "It's allowed me to grow in a safer space where I don't have to worry about being judged."
When it came time to choose a high school after nine years at the elementary school, some chose to continue their education on Broadway Street not because of the familiarity, but because of the opportunities, according to Eklund.
"I was between Convent and SI [St. Ignatius] and I thought I wanted a big 'High School Musical' experience," Eklund said. "At the end of the day though, Convent had a better track record with college acceptances and had smaller class sizes and would prepare me better for college."
Others remained at Convent because it "felt right."
"When I was visiting other schools I didn't feel the same sense of community that I did at Convent," Lo said. "I automatically felt included and important here, a vibe I didn't get at other schools."
Being on the same campus as familiar faculty adds to the sense of community, according to Lo.
"It's nice to be able to keep in touch with my elementary school teachers and see them in the hallways and ask how I'm doing," Lo said. "It's nice that my elementary school experience has been carried on to my high school experience."
Thirteen years on the same campus has taught these girls how to be self-sufficient, unafraid to ask questions, and be confident in who they are.
"Because of Convent I know how to get the most out of any education now," Eklund said.