English department no longer accepting Poetry Festival submissions
Grace Ainslie
Reporter
The English Department collected final submissions for the annual Poetry Festival and have started the judging process.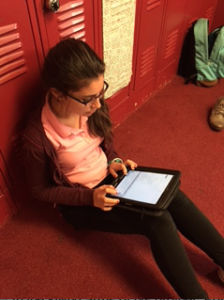 "We've accepted some [poems] yesterday, some this morning, but by today they should have all been turned in," Anne Guina, freshman and senior English teacher said. "Today the English Department met and we started going through the poems."
Every student is required to submit a poem for the festival and will be given a homework grade for their entry, according to Guina.
"I feel like people can really express themselves through their writing especially poetry," freshman Isabel Elgin said.
Students can write a poem in any form, whether it is lyrical, a short poem or a haiku, according to Guina.
"People will get stressed out if they have to write in a way that they don't feel confident or comfortable," freshman Carlota Rubio said. "I don't think it should be mandatory, it could be recommended."
Three winners are chosen per class along with one all school winner for both Convent and Stuart Hall.
"We rate them and then we come down to the top and then we rank them one, two, three and four," Guina said. "They are passed off to the outside judge and the outside judge will chose an all school winner as well as a first, second and third."
The outside judge has not been decided yet but is usually a local author, poet or writer, according to Guina.
"The Poetry Festival is a chance for students to share their own poems aloud to the student body and faculty," Guina said.