College counseling elective begins for juniors
Liana Lum
News Editor
Juniors gathered in the Mother Williams Library with their iPads this morning for their first college counseling elective.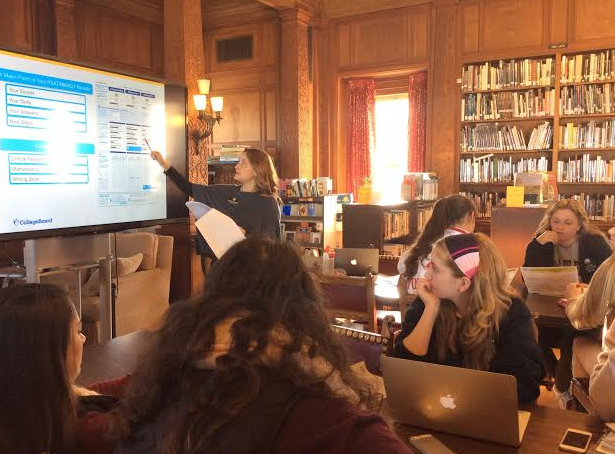 "As juniors, it's time to think about where you want to go and what's next," College Counseling Director Rebecca Munda said during the elective. "We'll be using this as an opportunity to research colleges and prepare for the college admissions process."
Juniors are split in half, with one group attending the elective on Tuesday and the other on Thursday. Munda will be providing guidance and advice regarding college planning and career assessment website, Naviance, as well as the college search and essay writing with College Counseling Associate Kelly Whalen.
"I want to do a lot of my college application during this elective, so I can focus during my homework time and extracurriculars," junior Cat Heinen said. "I met with Ms. Munda at the end of sophomore year with my parents to look at colleges and Naviance."
The class received and interpreted College Board PSAT scores during this elective, learning how to use reports to chart their future academic progress.
"We also talked about what colleges look for," junior Julia Praeger said. "Having heard Ms. Munda and what she talked about really eased me and made me feel like my goals are a possibility. Before I was more skeptical of what was achievable."
Students as well as parents filled out detailed questionnaires regarding academic and extracurricular history and college preferences for family and individual meetings with Munda. Such meetings will be used to discuss résumés, transcripts, college lists and test preparation and dates, according to Munda.
"I am your advocate," Munda said. "I want to make sure that your voice is heard because you are the one going to college. The goal of the elective is to get you to the point where you have a realistic and balanced college list, so you know where you'll be applying come August."
Students can take SAT prep classes through Revolution Prep beginning next week on Monday from 6 p.m. to 9 p.m. in Room 301.