Old reservoir marked for park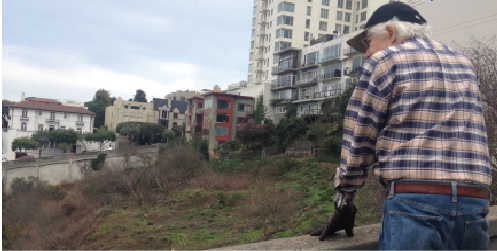 A long-abandoned reservoir with overgrown grass and graffiti on its walls will be transformed into a 4-acre urban playground due to the efforts of Russian Hill residents.
Built in the 1860s, the Francisco Reservoir between Larkin and Bay streets was a main source of water for San Francisco, and residents have talked about repurposing it since it closed in 1940.
"In a city so small, it is sad to see a space so large not being used," English Department Chair Rachael Denny, who is a resident of Russian Hill, said. "Repurposing any space is a good thing."
Reopening the reservoir would not be safe, according to AP Environmental Science teacher Marisa Orso.
"The reservoirs wouldn't pass any seismic test today," Orso said. "The reservoirs are so seismically unsafe that they are real hazards in earthquakes. We don't need these reservoirs any more. We've already decided a long time ago that our water was coming in from Hetch Hetchy."
The surrounding community began planning for a new park in early 2011.
The San Francisco Recreation and Park Department secured the land transfer for $9.9 million from the Public Utilities Commision last August after three years of planning.
The Working Group, the organization supporting the project, aims to raise $25 million to help fund the renovations, expecting money will be left over. Private donors have pledged $11 million according to Margaux Kelly, a legislative aide to Supervisor Mark Farrell.
"The rest of the money is put into a separate fund and that money every year is invested and it earns a return that will then pay for the ongoing maintenance of the park." Kelly said.
The Recreation and Parks Department and the Working Group are currently drafting a Memorandum of Understanding, which is a legal document outlining the terms and details of an agreement.
"[The memorandum] will define how the money will be spent to renovate it and how the park will be maintained and who will be responsible for what and at what time," Kelly said.
The community plans to brainstorm ideas in early 2015 for the design of the new park.
Russian Hill is one of the densest neighborhoods in the city, yet children do not have a safe playground. Fort Mason is the nearest park, but it has no playgrounds.
"I love the idea of some kind of playground area for the kids in the neighborhood," Russian Hill resident Mary Macpherson said. "We already have a really great dog run, we have nice little walking trails here and there, but we don't have a lot for the kids."
The renovations are expected to begin in 2017, and the park will take approximately one year to complete.
"It is just going to improve the quality of life in the neighborhood," Dan Holligan, resident of Russian Hill and President of Russian Hill neighbors, said. "The primary goal is just to turn this unused land into a very unique open space for the public to enjoy."