Construction sites limit parking spots
Ariana Abdulmassih
Senior Reporter
The current San Francisco housing shortage has drivers struggling to find parking amid an already limited amount of parking spaces in the residential area around the Broadway campus due private contractors reserving street parking near houses they are remodeling.
"One of the times I drove to school it took me 45 minutes to find a spot and I was actually late to my first class," junior Makena House said. "I had to move it every two hours during passing period which was a huge pain."
In residential permit areas, drivers must move their vehicle at least one block or one-tenth of a mile away from their current spot, after the time limit on the sign is up, or they face a $74 ticket, according to the San Francisco Municipal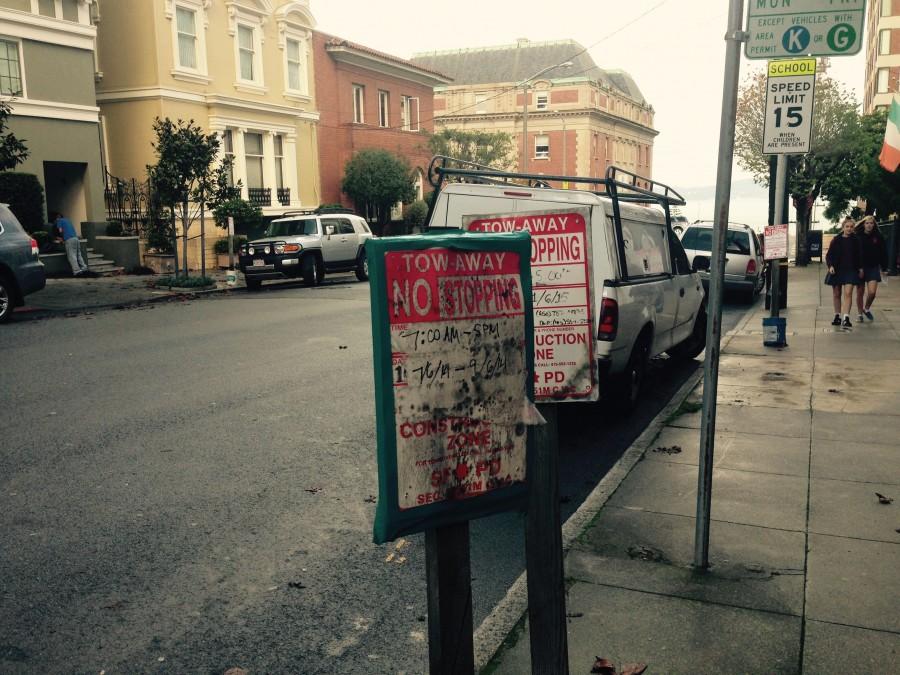 Transportation Agency.
"It wasn't always hard to find parking," Spanish teacher Riki Garcia said. "Sometimes I got lucky, but most of the time I had to park about four or five blocks away. It was stressful because I sometimes had a class waiting."
Building permits, given to private contractors, automatically come with with a street space permit outside of the building site being worked on, according to the SFMTA.
Currently, there are a total of 58 construction spots in a two block radius of the Broadway campus, according to a Broadview study.
"There are a lot of construction spots around school," junior Alexandra Farrán said. "I didn't notice them until I started driving to school."
Along with the 58 occupied valid parking spots, another 104 potential spots are taken up by residence's driveways, according to the Broadview study.
"Spots reserved by construction are definitely a pain because if they weren't there, there would be so many more open parking spots," Farrán said.
Some students and employees carpool to make the commute to school easier, by picking each other up and sharing parking spots.
"I carpool with Kate Carson because we both live in Marin," House said. "I leave my house at seven and pick her up at her dance studio in Marin which is where she leaves her car during the day."
Some drivers in the community have rented parking spots near the Broadway campus to avoid worrying about moving their vehicles during the school day.
"Driving is really convenient for me because I have my parking spot but I can see how difficult it can be for people who don't have a spot rented out," House said. "Before I had my spot I was always stressed out about moving my car and if I was going to get a ticket."
Fifty-eight percent of Schools of the Sacred Heart employees drive, 21 percent always or sometimes take public transportation and 18 percent either carpool, bike or walk, according to a survey administered by executive assistant Donna Morgan.
"I used to drive everyday, but I rarely drive to school anymore," Garcia said. "I either bike to school from Marin or my husband drops me off in the morning."
Forty-nine percent of faculty who drive their vehicles either always or sometimes share parking permits, assigned by the administration based off of the need of faculty or faculty seniority, giving them the ability to leave their vehicle all day without getting a ticket.
"Driving is really inconvenient in the city," House said. "You either have to have a spot or else it's pretty annoying and inconvenient to drive to school."