Home, sweet home
Claire Kosewic & Grace Ainslie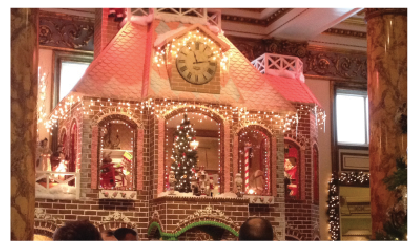 Life-sized gingerbread houses aren't just found in fairy tales. The lobby of The Fairmont San Francisco is adorned with a 22-foot tall, walk-through gingerbread house every holiday season.
"People base the time they come because this is going to be up," Melissa Farrar, Public Relations Director at The Fairmont, said.
The tradition that started in 2008 is a collaboration between hotel chefs, carpenters and electricians. Planning begins formally in August, with chefs brainstorming ideas and pitching them to engineers, who determine what is possible.
"I think it's the biggest one in the city," head pastry chef Kimberly Tighe said. "It's certainly the only one that's a walk-through. A lot of places will do big ones or really detailed ones, but they're just a façade, so the fact that guests can walk through this gives them a little more personal experience."
The gingerbread house has a plywood frame, but otherwise is held together with royal icing, made out of egg whites and powdered sugar. Candy used to decorate the house is opened a month in advance, so it will become stale and stick to the icing.
Since the house is walk-through, visitors often eat the candy and pieces of the house, which necessitates frequent repairs.
"Kids eat the candy, but it's really the adults who are the bigger problem," general maintenance manager Larry Walten said.
Visitors are asked to make a donation to the Leukemia & Lymphoma Society, whose Child of the Year Rhett Krawitt performed the ribbon cutting ceremony on Nov. 29.
The lobby was buzzing with adults and children of all ages gazing at the 22-foot Christmas tree while anticipating the unveiling of the house.
"It's all about the traditions," Becca Norton, a San Francisco resident who came to the unveiling with her 7-year-old daughter Amelie, said. "It's a San Francisco thing. When you live here you want to be a part of it."
"If you can only pick one time a year to experience the hotel, ideally it's this time of year," Farrar said.
The gingerbread house is open to the public until Jan. 2.