Senior Tea kicks off commencement season
Hang on for a minute...we're trying to find some more stories you might like.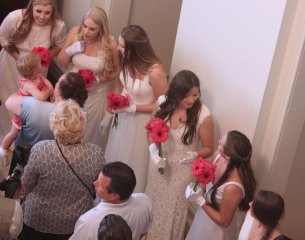 Madeleine Ainslie
Design Editor
Faculty, staff, parents and friends made their way down the receiving line of 37 seniors, shaking gloved hands during Senior Tea this afternoon. The long-standing tradition kicks off graduation season that culminates on June 7 with Commencement.
"I like it because it's such an old tradition," Fiona Giarratana-Young said. "Everyone gets dressed up in their gowns and it's day to just be together with the Senior Class and all of their family."
Hundreds of guests line up out the door, waiting to congratulate each member of the Class of 2014.
"I like Senior Tea as a tradition because we get to connect with people we might not usually talk to," senior Phoebe Flynn said. "It's kind of the beginning of the end for all the graduation festivities, so it's a little sentimental.
Although the seniors don't know every guest personally, Senior Tea  gives the graduating class a chance to celebrate the past four years.
"I'm really excited for Senior Tea next year because all of our friends and family are able to come and see us," junior Marie de Tomasi said. "Not everyone can come to graduation, so it's a great opportunity to for everyone to see how much we've grown."
The seniors, who were given the day off school, took the morning to relax and get ready before coming to school where they dressed up in their white graduation dresses and heels — though some donned sneakers.
"I wore sneakers to this event because we had to stand for so long," senior Lizzie Whittles said. "In previous years I've heard how miserable it is to be standing in heels for so long and I knew I wouldn't be able to do it so I brought my heels, but in the end I decided to wear sneakers because it's just more comfortable."
(Visited 264 times, 1 visits today)
Hang on for a minute...we're trying to find some more stories you might like.