Rising sophomores to visit Costa Rica in January
Liana Lum
Reporter
Convent and Stuart Hall's first immersion, service-focused trip to Costa Rica has been announced for January 2014 for the entire rising Sophomore Class of both CSH and SHHS.
"Our school has engaged in global service and immersion for years, though often for a limited number of students and, at times, at a prohibitive cost," President Anne Marie Krejcarek wrote in an email to the class. "Our intention is to advance the momentum of our global partnership and stewardship program."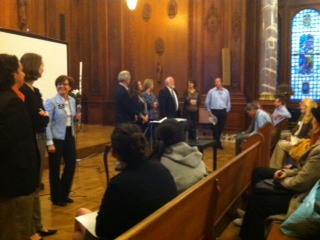 The week-long trip will take place in collaboration with the Costa Rica Language School whose school's foundation supports non-profit community service and educational programs from profit earned through ecological tourism as well as Spanish and English language courses.
"I started my company because I got a calling in my heart from God, a calling to help all those children that don't have the means for an education," CEO Carlos Fallas said. "The Costa Rica Language School is a product of this vision."
The group will be staying at Villas Rio Mar, a sustainable eco-lodge in Dominical, south of San Jose. Activities include a service immersion day with a local school restoration and recycling facilitation as well as horseback riding to a waterfall and a visit to Hacienda Baru, one of the richest biological preserves and an eco-adventure center where students will go zip-lining.
"This trip gives students a global experience, provides them with new opportunities and broadens their perspectives," SHHS Head Anthony Farrell said. "It speaks to the Goals of 'Social awareness impelling action,' and 'Building community in a Christian environment.'"
Chaperones include teachers and administrators from both high schools along with chief financial officer Ron Bannerman and Krejcarek.
"Chaperones are there to both ensure student safety and to encourage engagement in the various activities," Dean Rachel Simpson said.  "All teachers are trained as first responders and, as Señor Fallas stated, there is a medical team at the Dominical Lodge at all times."
Parents at the informative meetings showed interest as well as support towards this trip.
"I am very confident in the group that is going," Thomas Harvey, father of freshman Kendra Harvey, said. "My daughter visited Peru with the school and that was a great first trip for her."
Students also share in the excitement of this upcoming trip and anticipate the activities and service opportunities.
"I remember at my old school we went to CYO camp for a retreat, and in those few days our class become so much closer," freshman Julia Praeger said. "We're going to be in Costa Rica, an amazing place, for a week with an amazing class. I hope things go really well."