Assembly honors students for merit and academic achievements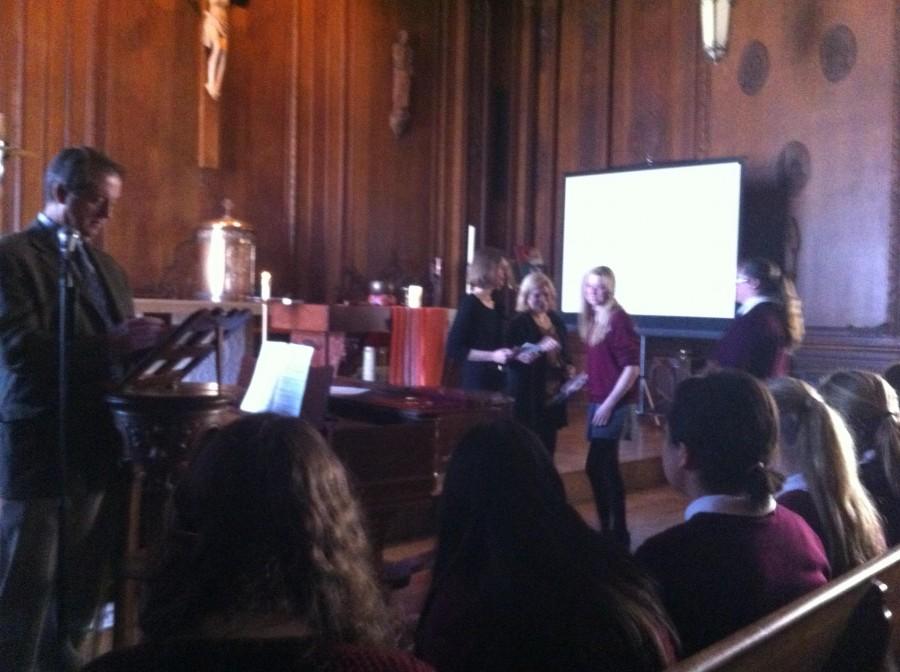 Web exclusive
Liana Lum
Reporter
Applause filled the Chapel during the Honors Assembly this morning as students in dress uniform received academic honors and class awards based on merit.
"This assembly is not just about grades," learning resource teacher Patricia Kievlan said. "Instead, it's about all the different ways that our students distinguish themselves on our campus through character, through leadership, through kindness to each other, through service. It's all about honoring the whole child in the spirit of Sacred Heart tradition."
This assembly is unique to the high school and has evolved over the years.
"Prior to 1960 there was a weekly assembly called Primes, which recognized students for what they did well, but also chastised students for what they didn't do well," curriculum coordinator Doug Grant said .
Today, teachers award students based on characteristics and improvement, not only academic performance. Students were given awards not only for their "desire to improve" and "fabulous lab reports," but for their "sense of humor and joyful demeanor" as well as "quiet tenacity and smirk" and "creativeness in creating a French monopoly board."
"I look for students who have made an effort to contribute to the classroom community in some way," history teacher Sarah Garlinghouse said. "Not necessarily by getting all the test questions correct but by making the class a better place to be."
Students find these awards useful and motivating.
"It's really beneficial, especially when you're applying to colleges, because they have a section on applications where you can put awards that you've gotten," said senior Gina Domergue.
Teachers, likewise, hope students will be encouraged from the assembly.
"I hope students take motivation from it," Kievlan said. "I hope students see it as validation of what they bring to our community, that our community values more than just grades, that we value all the wonderful things that all of you (students) bring to our community every day."