Alumnae panel shares influence of Convent education
by Liana Lum
Alumnae representing the Classes of 1958 through 2004 now working in fields as varied as authoring children's books, flying a commercial airliner and managing employees at Google shared how their Convent education has influenced their professional and personal lives in a panel discussion this afternoon in the Syufy Theatre.
"To have a community and be able to be yourself is something that you cannot always get in the real world, but Convent allowed for all that," Danielle Dudum ('04) who now is a manager at Google said. Dudum credited her time at Convent in helping her form relationships with colleagues in the workplace and mentor other women.
"Women need to help each other," Theresa Foster ('79), a 20-year United Airlines international pilot said. "We are half the sky, but as women, we need all the help we can get."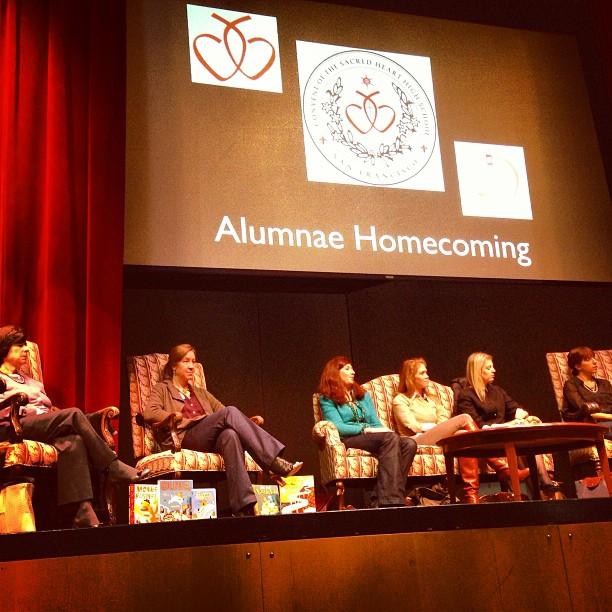 Foster was referencing the Nicholas Kristof documentary on the struggles of women in developing nations, "Half the Sky," the student body watched this morning.
"Witnessing how alumnae are shaped by Convent, not just a year or two after graduation, but years — even decades — down the road, inspires me to truly cherish my time spent here," junior Kellie La said. "The experiences we gain not only shape who we are as students and intellectuals, but shape us as individuals."
"I think there is a great need to celebrate the legacy of our alumnae and for us to create bigger ongoing connections between the current school and our alumnae network," Dean Rachel Simpson, who helped plan the day, said.
Other panelists were retired lawyer Ann Miller ('58), children's author Vivian Walsh ('78), writer and realtor Tricia O'Brien ('82), Vicky Trehadan (CES '95), director of communications at Riordan High School, and recent Georgetown graduate Reilly Dowd ('08).
—Hanae Nakajima, Jaime Hum-Nishikado- also contributed to this story.