Rebecca Lee
Editor-in-Chief
Small patches of green grass are beginning to regrow in Oscar Grant Plaza, formerly Frank H. Ogawa Plaza and the site of the Occupy Oakland encampment. Although the protesters have vacated the plaza and Occupy Oakland's protests have significantly died down since the beginning of February, "Occupiers" are still continuing the movement.
"I'm part of Occupy for Prisoners and we are going to the state capitol on Monday to gather and bring awareness about what's going on with our educational system," protester Molly Batchelder said. "We're bringing awareness about the prison system complex and how we're really putting all of our money and energy into incarcerating people instead of teaching our youth."
Although it may seem like the Occupy movement has split off for its separate causes, such as fighting foreclosures, standing up against environmental injustice and advocating for redirection of the budget, Batchelder does not agree.
"I don't think [Occupy for Prisoners] is any different from when Occupy Wall Street began," Batchelder said. "So, I think Occupy Oakland is very empowering because within this movement, if you want to change something, you can find your place and you can have a voice and you can get your point across. It's just a gathering of community members."
Batchelder said Occupy Oakland started because they understood that so many things are corrupt and unjust and if they wanted to change it, they would have to be the ones to do it.
"The Occupy movement is a new political phenomenon and is constantly evolving," Oakland Mayor Jean Quan said during her State of the City speech last month.
While many Oaklanders agree with the initial concept, Occupy has broken into many parts, and the continued action of a small minority has been very costly to the city worth $2.7 million, according to Quan's 2011 State of the City Report.
Chaos caused by Occupy Oakland spurred another group known as "Stand for Oakland," consisting of residents, merchants and downtown business who call themselves the "silent majority" and oppose the vandalism and violence, according to a publicity notice given out by the group.
"I thought at first [Occupy] was a good idea. I get what they were saying and how they were fed up with the government and the 1 percent," junior Cate Svendsen said, "but the way that it turned out lost the focus of what they wanted to accomplish in the first place."
Svendsen said that although the Occupy's message was good, it was lost in the Oakland violence that ended up encompassing it.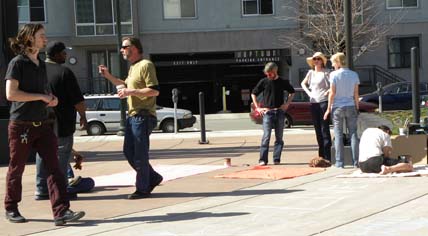 "I'm not surprised that there was so much violence," Svendsen said. "Usually when protests like Occupy have so many people get together, there's bound to be others who are violent and don't take it as seriously as the protesters. I know there are people who have good intentions and who don't want the violence but it still occurred."
Batchelder said she agrees that it was unfortunate about how much violence ensued with the Occupy Oakland movement.
"We're a little more wise now," Batchelder said. "We've made a few mistakes of course as everything goes and we're learning from our mistakes, while thinking about the best way that we can be effective."