'Half the Sky' challenges students, faculty to action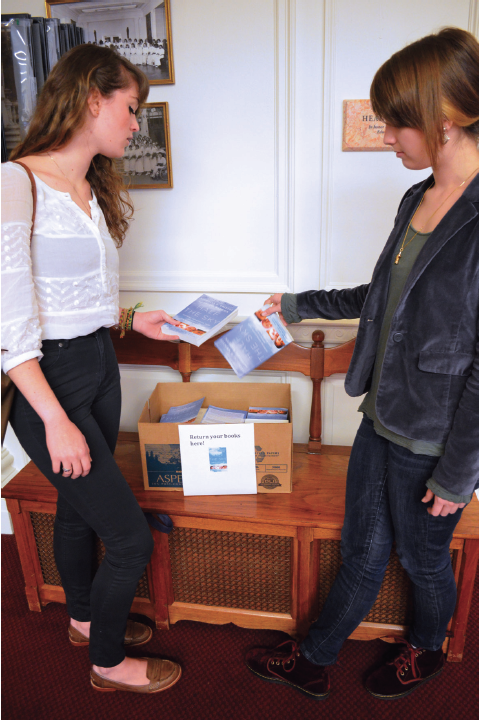 Claire Fahy
sports editor

While a Christmas reading assignment may not seem exciting or enticing to many students, the undertaking of the school community to complete Nicholas Kristof and Sheryl WuDunn's New York Times Bestseller "Half the Sky" by the dawn of the second semester was more than just homework. It was the initiation of a school-wide project to take on the intense struggles experienced by many women in the third world.
Head of School Andrea Shurley said that by reading "Half the Sky" she hopes students are "beginning to feel empowered in a meaningful way toward action," and realize how to live out Goal 3 of Sacred Heart Education to "commit themselves to a social awareness which impels to action."
"Half the Sky" documents the struggles of women in third world countries ranging from Pakistan to Ethiopia who are subjugated by sex trafficking, prostitution and even marriage. Rooted in the cultures of such countries are traditions that demean and damage females of all ages, and can lead to misunderstandings and resistance to beneficial institutions such as modern medicine and female empowerment, according to the authors. Kristof and WuDunn attest to the power of education to right these wrongs and better the situation of women in these repressive situations.
"Reading 'Half the Sky' inspired me to participate more in fundraiders like the book drive for Uganda and charity events like that that our school puts on," junior Bianka Quintanilla-Whye said. "I think we should bring more fundraising events to the school."
Of the girls enrolled in developing countries' primary schools, 20 per cent never graduate according to the United States Agency for International Development. Girls who remain in school just seven years longer will marry four years later than those who don't stay in school and will have two fewer children. Developing countries experience a 3 per cent increase in gross domestic product when just 10 per cent more girls are educated.
The school community met up in PAWS advisory groups after finishing "Half the Sky" in early January to discuss ways in which to address the problems addressed by the book and brainstormed fundraising ideas to provide assistance such as purchasing school uniforms and spreading AIDS awareness.
Shurley's PAWS group began a book drive, encouraging students to return their copies of "Half the Sky" to send to members of Congress to raise awareness of the strife of third world women.
As part of the larger school program, students broke out into grade-specific groups to build upon the ongoing discussion of female empowerment. Students viewed Jennifer Siebel Newsom's "Miss Representation," a movie on the misrepresentation of women in the media by derogatory stereotypes, and a visit from "Think" author Lisa Bloom.
Freshman took part in a forum on body image building on the ideas presented by "Miss Representation," sophomores gathered to talk about the importance of fostering relationships and support within their class, juniors attended a leadership forum focusing on their roles as rising leaders, and seniors were presented with a college panel of recent alumnae who engaged them in candid conversations about being strong women in college.
"I liked how the book had optimism in it and included what we can do and how we can move forward," junior Chiara Figari said about the book's school-wide inspiration. "It wasn't just pessimism and negative situations."

(Visited 81 times, 1 visits today)