Sophia Redfern
Reporter
The annual Walk for Uganda to raise money for sponsoring students and for building funds at Sacred Heart Primary School in Kyamusanala, Uganda is scheduled to take place March 3, starting at Crissy field and going over the Golden Gate Bridge.
"The key word is solidarity," theology teacher Paul Lorentz who has been involved with the walk for five years said. "We experience and activity together that relates us to a group that we never meet in our lives but whom we care about. We want to show that we love them."
The walk has raised over $35,000 since 2004, aiding the growth of students attending the primary school from 84 students  in the first class to 500 students today.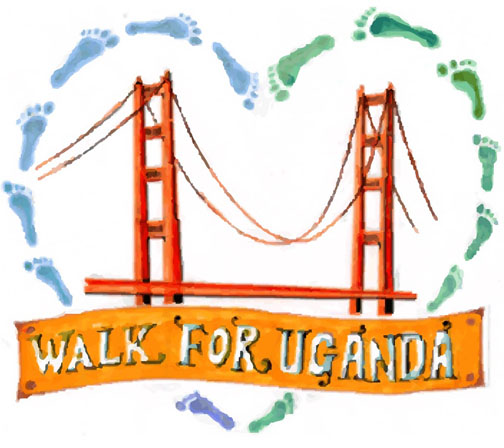 "I've been going to Walk for Uganda for the past two years," senior Annie De Lanci said. "I think that Walk for Uganda is a great fundraiser and it is so easy to take part in. In addition to walking the course, I worked at the check-in table one year."
Proceeds from the walk went toward a new dorm building for the girls, who previously slept in the bottom half of their school building.
"People can register online to walk or 'Sleep in for Uganda,'" former CSH English teacher Theresa Padden said. "By doing the walk though, you get to meet fellow students from Sacred Heart Schools Atherton."
Padden started the Walk for Uganda with CSH students in 2004 and has visited both Sacred Heart primary school and the girls' high school in Uganda.
"If 100% of the student body goes to the walk there will be at least a half day of school on the day of prom," head of school Andrea Shurley said. "It's a nice incentive and will allow the girls more time to get ready and look nice for prom."
Registration for the walk is $25 and T-shirts are $15. Registration is open until March 3, but T-shirts must be ordered by Feb 10.
When they register online participants can choose to designate their donations to sponsoring a student at Sacred Heart Primary School with a full-year scholarship, renovating the library roof or for science lab supplies.
"The whole experience is a great opportunity to make a difference in the lives of young women who are part of the Sacred Heart family," Padden said. "They are young women who are eager to be empowered and make a difference in the world like the girls at Broadway."