San Francisco Main Library comemmorates Californian suffragettes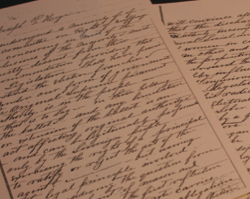 Sophia Redfern
Reporter
San Francisco prides itself on its diversity and inclusive legislation, yet it's surprising the exhibit The Centennial of California Woman Suffrage on third floor in the San Francisco Main Library has had little exposure, although the exhibit has substantial information about the movement.
Encircling the central atrium, the exhibit features documents, photographs and other privately-collected items. The petitions on display give a sense of how many women were voicing their opinion for suffrage, demanding for their right t vote from California legislators — all men. Informational panels sharing narrative stories, along with photos of suffragists such as Selina Solomons, a San Francisco author and activist, shed light on the women's lives during the late 19th and 20th centuries.
The exhibit also contains witty propaganda posters — both pro and con — about the woman suffrage movement, adding to a visual experience to common beliefs during the era.
Political cartoons include images of women writing lists of where their "places" are, crossing off the word "home." Another piece shows a woman at the bottom of a ladder with different jobs that she could climb up to, limiting her to a governess, nurse or teacher.
The exhibit gives a 360-degree view of the suffragist movement and is an excellent resource for young women who want to learn more about their history, commemorating Californian women's actions towards accessing more rights for themselves.
(Visited 98 times, 1 visits today)